Drew Barrymore en Vogue Magazine [Marzo]
Drew Barrymore posó para la revista Vogue en su edición de Marzo 2008. En la entrevista con Vogue, Barrymore conversa sobre su novio Justin Long, al cual conocía seis años antes de que la relación se volviera seria, sobre su cuerpo (y el peso) y muchas anécdotas que explican porque todos están locos por Drew. Drew fue fotografiada por Steven Meisel, y posó para una sesión de fotos espectacular, vestida como una Diva. En su más reciente trabajo para HBO, Drew Barrymore protagoniza junto a Jessica Lange "Grey Gardens," e interpreta a Edie Beale, la prima excentrica de Jackie Kennedy. Drew Barrymore does the March issue of Vogue magazine. During the interview with Vogue, Drew talks on her new boyfriend Justin Long – the two knew each other for seven years before becoming serious – on her body and some examples that show why everybody is mad about Drew. The latest Drew's role is as Jackie Kennedy's eccentric cousin Edie Beale in HBO's upcoming Grey Gardens, she stars with Jessica Lange.
Puedes sentirme reir? Me duelen las mejillas, soy tan feliz. (dice Drew) En el fondo escucho a Justin diciendo "Ella hace que me duelan las mejillas también, y puedes citarme diciendo esto! Can you feel me smiling? My cheeks hurt, I'm so happy" In the background I hear Justin saying "She makes my cheeks hurt, too, and you can quote me on that!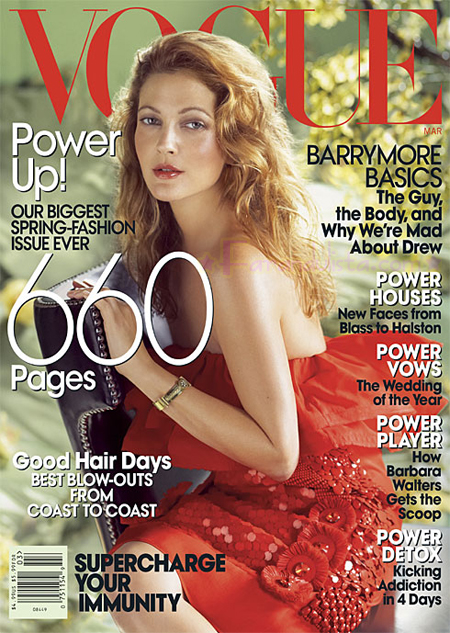 Drew Barrymore habla sobre su novio Justin Long en Vogue [Marzo]
scans: thanks kochie332
[tags]Drew+Barrymore, Vogue+magazine+marzo+2008[/tags]
[bgs]Drew barrymore[/bgs]