Jennifer Aniston dejo a Brad Pitt – y no al contrario –
Jennifer Aniston dejó a Brad Pitt y no al contrario como muchos afirman. (No, no hemos regresado al 2005) Sheryl Crow ha afirmado que Anisto fue la que dejó a Pitt. La pareja terminó su relación en el 2005, luego de cinco años de matrimonio y circularon rumores que la causa fue porque Brad Pitt se enamoró de Angelina Jolie en el set de "Mr. and Mrs. Smith". Sin embargo, Crow dice que ella se enteró de esto luego de que Aniston terminara su relación con Pitt y ella la suya con el ciclista Lance Armstrong. Jennifer Aniston dumped Brad Pitt rather than the other way around. The couple split in 2005 after five years of marriage with rumours that Pitt had fallen for Angelina Jolie on the set of Mr and Mrs Smith. However, Sheryl Crow said she learned the truth when she became friends with Aniston after the actress ditched Pitt and she split from cyclist Lance Armstrong.
Para nosotras, la idea que se percibe es que, en nuestras grandes relaciones, nos dejaron. Créeme, esto no es cierto. Ninguna de nosotras ha sido dejada nunca. Nadie alguna vez sabria que ocurrió en las relaciones. "For both of us, the perceived idea is that, in our big relationships, we both got dumped. Believe me, this is not true. Neither one of us has ever gotten dumped. No one ever knows what goes on in relationships.
Desafortunadamente, para algunas personas como Jennifer [Aniston] y yo, hay muchísimo escrito sobre cosas que no dices, y son atribuidas sentimientos fuertes que no has tenido. "Unfortunately, for some people like Jennifer and me, so much is written about things that you don't say, and so many emotions are attributed to you that you haven't had."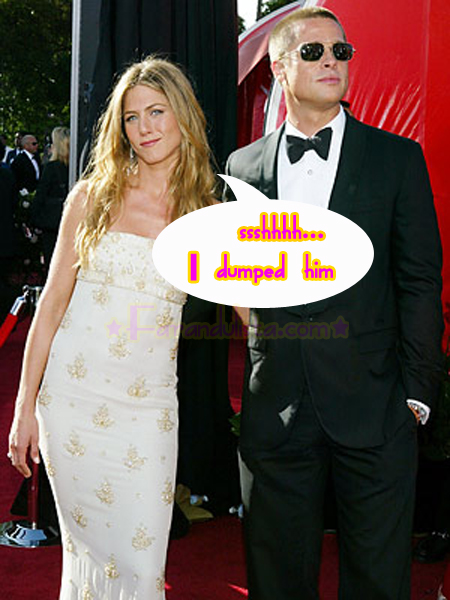 [tags]Brad+Pitt, Jennifer+Aniston, Aniston+dejo+a+Pitt[/tags]
[bgs]Jennifer Aniston, Brad Pitt[/bgs]