Britney no esta embarazada, solo retiene liquido – video intimo?
Era de esperarse que un portavoz de Britney Spears negara los numerosos rumores y reportes sobre su posible tercer embarazo. Britney no está embarazada, solo ha ganado peso. Según un amigo de la estrella el que su barriga se vea como una baby bump es porque ella está reteniendo líquido, se viste con ropa fea y poco favorecedora y además tiene gente mala que siempre anda pendiente de lo que ella hace. Guilty! Anyway, Britney se está recuperando, y tiene que hacer ejercicio porque con los medicamentos… está ganando peso. Aquí Britney disfrutando de la playa en Costa Rica donde se encuentra disfrutando unas vacaciones con su padre y Mel Gibson. A Britney's spokerperson told that the singer is not pregnant. A friend even said she looks like that, pregnant because she's retaining water, always uses fug and unflattering clothes and she is sorrounded by mean people analysing everithing what she does.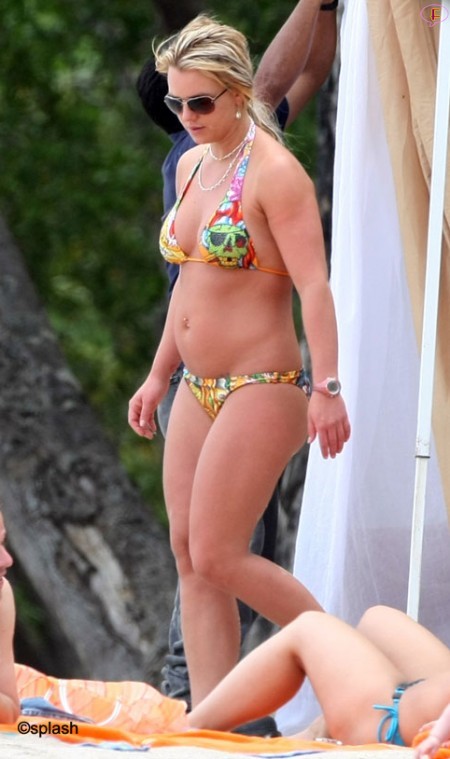 Britney disfrutando de la playa en Costa Rica
dlisted/splash
No, y en otras noticias sobre Britney, o sea siéntense… Según The National Enquirer supuestamente hay un video sexual de Brit Brit y Adnan Ghalib. Qué tal? Just… ewwwww. Tal vez sea cierto, tal vez no. Pero dicen que es un video de alta calidad (huh?) que fue filmado durante su escape a Rosarito, Mexico, en Enero (hace 4 meses!) donde se ve a Brit con Adnan intimamente y además usando la peluca rosada y ropa barata comprada en el lugar. Ha! OK, esto es ridículo, en serio… ver para creer. Sinceramente y hablando en serio, creo que no hayan que inventar para hablar de Britney. Un video intimo con Adnan… y sale a meses de que ellos terminaron? … NEXT! But wait, there's more. According to The National Enquirer there's a sex video with Britney and Adnan Ghalib filmed during their trip to Rosarito, Mexico on January (4 months ago!). A insider said britney was wearing a pink wig throuthout. Ha! It sounds so desperately, It's ridiculous.
[tags]Britney+Spears, Britney+en+bikini+Costa+Rica, Video+sexual+Britney+Adnan[/tags]
[bgs]Britney Spears, bikini[/bgs]