Conoce a Honor Marie la hija de Jessica Alba
Jessica Alba posa con su hija Honor Marie para la portada de OK! magazine. Jessica comenta que no pudo gritar durante el parto (Baby Honor nació por parto natural), porque estaba realmente Zen. La labor de parto fue más bien como una meditación, hice respiración de yoga, estaba muy concentrada. Ni siquiera emitió un solo sonido, fue maravilloso, dice su esposo Cash Warren. Jess Alba ya comenzó a ejercitarse para perder el peso ganado durante el embarazo, hace cardio durante 20 minutos, dice que quiere comenzar poco a poco. Pero a quién se parece baby Honor Marie? Cash dice que es una versión niña de él, tiene su nariz y sus cejas, frente y hoyuelos. Jessica dice que la bebita tiene sus orejas y la boca idéntica como cuando era bebé. En realidad es una mezcla de los dos, dice Cash, quiero que se parezca a mi, porque una hija parecida a Jessica, me mataría! La revista OK! con las fotos exclusivas de Jessica Alba y su bebé Honor Marie sale a la venta el jueves. Jessica Alba and her baby daughter Honor Marie do OK! magazine. Jessica says she didn't scream during the birth because she was really zen. She didn't make a sound. It was amazing, says cash Warren. Alba had natural birth. "The labor was more like meditation," she says. "I did yoga breathing. I was focused." Jessica Alba's just now starting to shed the pregnancy pounds. "I started working out last Thursday, but for 20 minutes. I do cardio on my own. I'm doing it slow," she says. So who does Honor look more like? "She looks like a girl version of me," Cash says. "She has my nose, my eyebrows and my…" "Forehead and dimples," Jessica finishes, adding, "She has my mouth when I was a baby. And my ears." "Maybe Honor is a mixture," Cash reconsiders. "I want her to look like me, because a daughter looking like Jessica, I'd kill myself!" OK! magazine with the complete interview with Jessica and Cash, including OK!'s exclusive photoshoot with baby Honor Marie, on newsstands everywhere Thursday!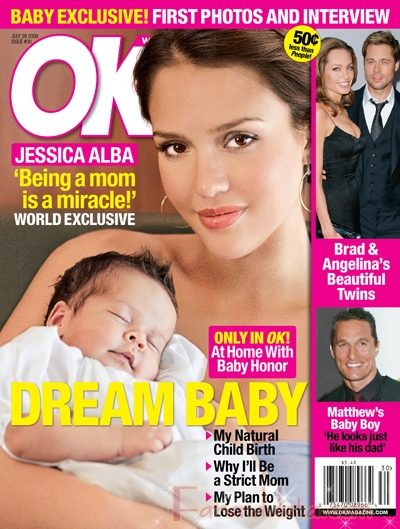 Jessica Alba y su hija Honor Marie en la portada de OK!
[bgs]Jessica Alba, Honor Marie Warren[/bgs]