The Jonas Brothers en la portada de RollingStone
The Jonas Brothers aparecen en la portada de Rolling Stone magazine, en su edición de Agosto 2008. Los famosos hermanos Jonas hablan con la revista sobre su carrera, las chicas y Dios, dejando claro que sí son una banda de verdad. Con su nuevo disco y una salvajemente famosa gira, los Jonas Brothers, Nick, 15, Joe, 18, y Kevin, 20 han pasado de ser la novedad de Disney a un fenómeno. Los Jonases están muy agradecidos con Disney por la oportunidad que les ha dado, pero quieren dejar claro que no son un producto fabricado,  ellos escriben sus canciones, tocan sus propios instrumentos y, of course, son hermanos. The Jonas Brother do the August 2008 cover of RollingStone magazine. With a wildly popular tour and a new record expected to sell millions, the Jonas Brothers have gone from Disney novelty to phenomenon. All they want is for you to see them as a real band.  The Jonases want everyone to know that they weren't cooked up in a Disney laboratory, that they play their own instruments, write their own songs, and that, yes, they are, in fact, brothers.
La gente nos pregunta seriamente todo el tiempo, dice Kevin, De verdad son hermanos? Joe se rie. Es como si, no, llamamos a nuestra banda «Jonas Brothers» por diversión.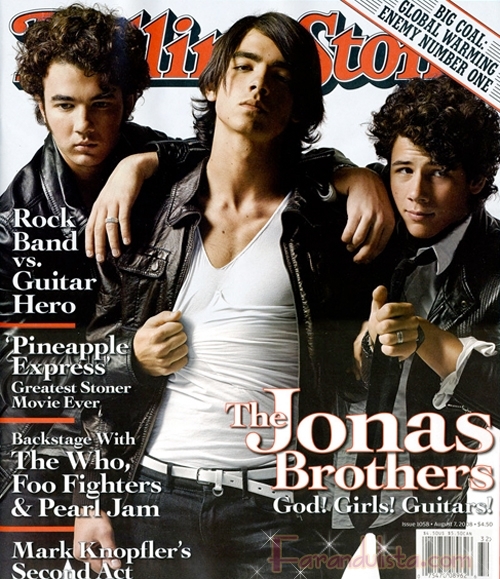 The Jonas Brothers en la portada de RollingStone [Agosto]
Video del detrás de cámaras de la portada de los Jonases en RollingStone
[bgs]Jonas Brothers, Nick Jonas, Kevin Jonas, Joe Jonas[/bgs]