Brangelina niega que sus gemelos sean In Vitro
Angelina Jolie y Brad Pitt han negado la historia que afirma que sus gemelos recién nacidos, Vivienne Marcheline y Knox Leon hayan sido concebidos in vitro. En la edición especial de People con las fotos de los gemelos Brangelina, Angelina dice que ella y Brad estaban en shock y se rieron muchísimo cuando enteraron que estaban esperando gemelos y negaron las especulaciones de que hayan sido concebidos por fertilización in vitro. La noticia que afirmaba  – citando una fuente cercana a Brangelina – que los gemelos Jolie-Pitt fueron concebido por fertilización in Vitro fue publicado por Us magazine el 24 Julio. Angelina Jolie and Brad Pitt denied speculation that they had conceived their twins Vivienne Marcheline and Knox Leon through in-vitro fertilization. "If they had been conceived through IVF, we would have been happy to discuss it," she says on People magazine. "But we have been fortunate never to have had fertility problems."  Us magazine reported on July 24 that Angelina Jolie and Brad Pitt turned to fertility treatments to quickly conceive twins Knox and Vivienne.
Si [los gemelos] hubiesen sido concebidos por fertilización in Vitro, nosotros habríamos estado felices de hablar sobre ello, dice Ange. Pero hemos sido afortunados de nunca haber tenido problemas de fertilización.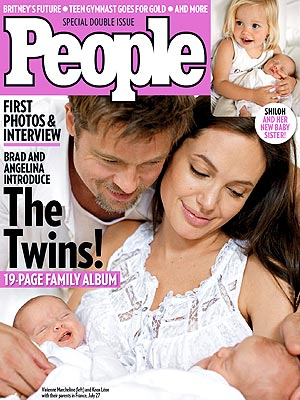 [Preview] Brangelina y sus gemelos
People.com
Conoce a Vivienne Marcheline y Knox Leon, los Gemelos Jolie-Pitt
[bgs]Angelina Jolie, Brad Pitt[/bgs]