L'Oreál dice que esa rubia es Beyonce
Un nuevo anuncio impreso de L'Oreál Paris' Feria hair color con Beyonce como imágen surgió el dia miércoles, pero con un pequeño detalle… BEYONCE ES RUBIA!! Claramente, se puede notar (al menos que seas ciego!) que esa es una versión blanca de la cantante. Pero L'Oreál dice que ellos no editaron la foto de Beyonce… Psss… SURE!!  Beyoncé Knowles ha sido imágen de L'Oreál Paris desde el 2001, dijo la compañía en un comunicado. Obviamente al salir el anuncio  surgieron numerosos ataques y críticas online  porque no solo habían aclarado la peluca el cabello de Beyonce, si no también su piel. Sin embargo L'Oreál negó rotundamente que hayan alterado las facciones o el tono de piel de Be en el comunicado enviado a E! News. El representante de Beyonce declinó hacer comentarios luego de la declaración de L'Oreál (Of course!! Qué va a decir? No fue alterada, Beyonce en realidad es blanca! LIARS!!) A new print ad for L'Oréal Paris' Feria hair color surfaced on Wednesday, featuring a blond version of Beyoncé Knowles. The French cosmetics giant is adamantly denying that it gave its longtime spokeswoman a case of PHOTOSHOP! "Beyoncé Knowles has been a spokesperson for the L'Oréal Paris brand since 2001," the company said in a statement to E! News, after coming under withering online attacks suggesting the ad lightened more than just the hair color of Beyonce. "We highly value our relationship with Ms. Knowles. It is categorically untrue that L'Oréal Paris altered Ms. Knowles' features or skin-tone in the campaign for Feria's hair color." A rep for the 27-year-old Knowles declined to comment beyond the L'Oréal statement.
Valoramos muchísimo nuestar relación con la Sra. Knowles. Es categóricamente falso que L'Oréal Paris alterara las facciones o el tono de piel de la Sra. Knowles en la campaña Feria's hair color.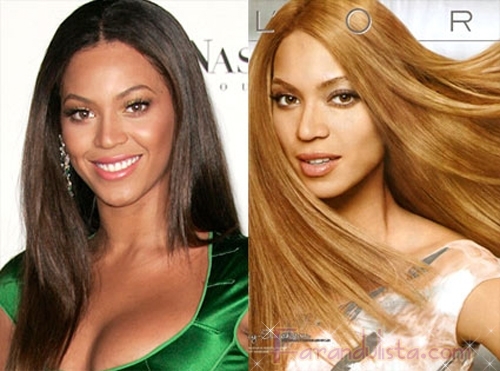 Beyonce es rubia en la nueva campaña de L'Oreál Paris' Feria hair color
[poll id="4″]
[bgs]Beyonce[/bgs]