Jennifer Love Hewitt rebajo 8 kilos en 10 semanas
Jennifer Love Hewitt, la protagonista de Ghost Whisperer, muestra su nueva y delgada figura en la nueva portada de US Weekly. Aahh, vieron que Farandulista tenía razón? Jennifer Love si estaba perdiendo peso! Según US, Jennifer Love ha perdido unos 8 kilos en 10 semanas. En noviembre todo el mundo criticó las fotos de Love Hewitt en bikini pasando unas vacaciones en Hawai, por verse pasada de peso. Pero ahora Jennifer Love tiene de nuevo su esbelta figura, y US promete compartir las rutinas de ejercicios empleadas por la protagonista de Ghost Whisperer y su dieta. Jennifer Love Hewitt shows her new thinner body on the US weekly new issue on newstands now. The Ghost Whisperer star lost 18 Lbs in ten weeks, according to the magazine. In November, Jennifer Love Hewitt was hard criticized for weight gain after photos surfaced of her looking fuller-figured in a bikini in Hawaii.  Her trainer reveals to Us exclusively how she lost 18 pounds, Hewitt's complete workout routine and diet plan plus what inspired her to change her ways.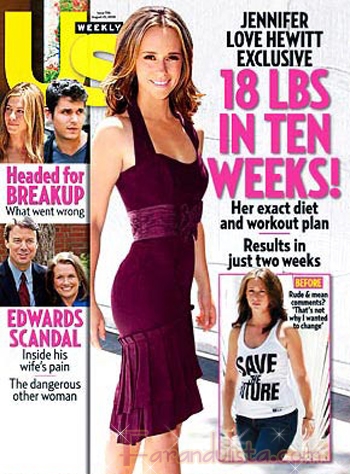 Jennifer Love Hewitt reveals new thinner body
Jennifer Love Hewitt delgada en US magazine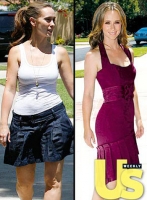 UPDATE! Yeah, la portada luce photoshoped… aquí fotos 'reales' de Jennifer Love Hewitt delgada.
source
[bgs]Jennifer Love Hewitt, Ghost Whisperer[/bgs]