Rihanna en quiebra, Y con ese Look?
Rumores afirman que la sexy cantante Rihanna está en quiebra. MTV UK reporta que Rihanna tiene en su cuenta solo $20,000 dólares, según informes de sus ex managers. De acuerdo a blackarazzi.com, la cantante despidió a Patricia Williams y la acusó de robarle su dinero, cuando se dio cuenta del estado de sus finanzas. La ex manager de Rihanna expresa que no es su culpa, que Rihanna solo tenga a su nombre $20,000 dólares, que ella (la ex manager de Rihanna) ha trabajado con muchísimos actores de alto perfil, cantantes y corporaciones multimillonarias, que por qué robaría ella a Rihanna? Continúa diciendo – que le mostró los papeles a la cantante y trató de explicarle la situación pero no quizo escuchar, en vez de hacerlo, Rihanna comenzó a insultarle y a gritarle toda clase de improperios. El single Umbrella de Rihanna fue lider en ambos lados del Atlántico con su reciente album Girls Gone Bad, ha vendido 5 millones de copias en todo el mundo. Es impresionante saber que Rihanna está en quiebra, Williams ha acusado a la firma discográfica Def Jam de no financiar correctamente a Rihanna. Reports say Rihanna is Broke! Rihanna has only $20,000 to her name- according to her ex-business manager. According to blackarazzi.com the singer fired Patricia Williams and accused her of stealing her money when she realised the poor state of her finances. The former manager said: "It's not my fault that she only has $20,000 to her name… I have worked for many high profile actors, musicians and multi-million dollar corporations. Why would I steal from Rihanna?" Patricia Williams: "I showed her all the paperwork and tried to explain to her the circumstances but she wouldn't listen. She called me all sorts of horrible names and stormed off." Rihanna's single Umbrella was number one on both sides of the Atlantic while her recent album Good Girl Gone Bad has sold around 5 million copies worldwide. It's a surprise that the sexy singer from Barbados is broke. Patricia Williams has accused her label Def Jam of not funding Rihanna properly.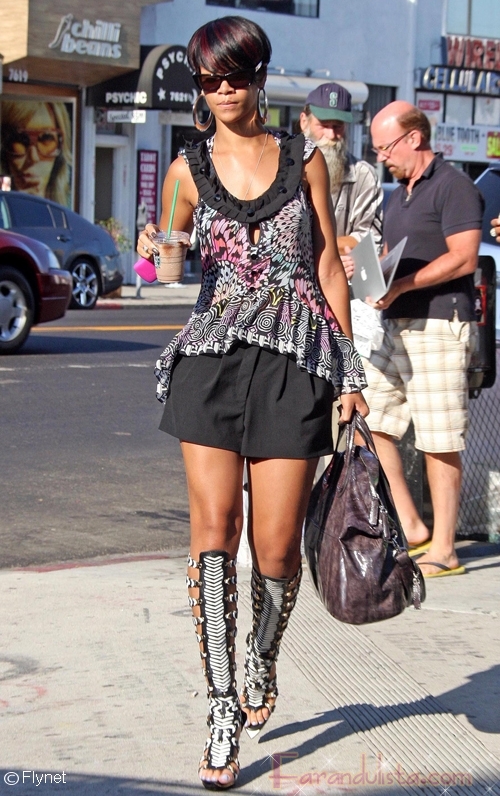 Pese a los rumores de quiebra, Rihanna comprando en West Hollywood (21/08)
CU/flynet
OMG!! Rihanna tiene un gusto rebuscadísimo. Fashion Police!! Parece que agarró todo lo que tenía en el clóset y se lo puso. Gosh y esas botas??? Heyy Rihanna, Michael Jackson llamó, quiere sus botas de vuelta!!!!
[bgs]Rihanna[/bgs]