Chris Brown es acusado formalmente – La verdad de las pics
Chris Brown fue acusado por los delitos de agresión y amenazas criminales,  por el Fiscal de Distrito de L.A. En los documentos figura 'Robin F' como la supuesta víctima. La pena mínima para Chris Brown sería de cuatro años y ocho meses. Pero si Rihanna no lo acusa… anyway, tal vez para la próxima.
The L.A. County District Attorney has just charged Chris Brown with felony assault and making criminal threats, also a felony.

The charging documents name "Robyn F." as the alleged victim.
[…]  he could face a maximum of four years and eight months in prison. TMZ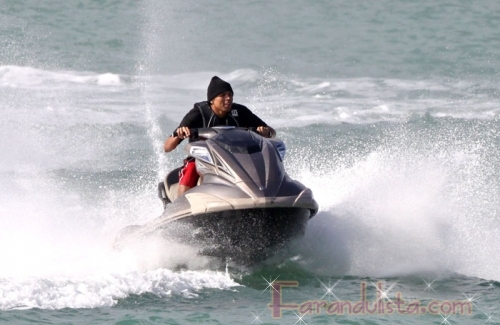 Chris Brown fue acusado por los delitos de asalto y amenzas criminales
La VERDA SOBRE LAS FOTOS DE CHRIS BROWN Y RIHANNA EN MIAMI. Well, Cómo diablos supieron los Paparazzi que Chris Brown y Rihanna estaban en la Mansión de Diddy en Miami, si supuestamente estaban escondidos? Según Page Six, Chris Brown llamó a los paparazzi para que lo fotografiaran. Chris necesitaba hacer saber a todos que él y Rihanna se habían reconciliado. Esa era la única esperanza de Chris y su carrera, que todos vieran que Rihanna y él estaban juntos de nuevo. Pero para desgracia de Chris, los paps solo tomaron fotos de él en jet ski y hablando con unas chicas en la playa, mientras RiRi estaba dentro de la casa. Luego (misteriosamente) la parejita fue fotografiada mientras abordaban un jet privado para Los Angeles. Qué tal?
[bgs]Rihanna, Chris Brown[/bgs]