Britney Spears triunfa en los VMAs 2008 – Ganadores
Britney Spears brilló en los MTV VMAs 2008 celebrados este domingo 7 de Septiembre en los Paramount Pictures en L.A, llevándose tres MTVs consigo. Britney quien abrió los premios un tanto nerviosa, caminó hacia el escenario con (Baby One More Time de fondo) y toda la audiencia se puso de pie aplaudiendo. Sonriendo emocionada, agradeció por todo el cariño y dio inicio a los MTV Video Music Awards 2008. Inmediatemente después, una muy feliz Britney subiría al escenario a recibir su primer MTV VMA por Mejor Video Femenino.  Estaba radiante, centrada y muy recuperada. Al recibir el primer "hombre sobre la luna" Britney agradeció a Dios, a su familia y a sus dos pequeños hijos por inspirarla, y dedicó el premio de Mejor Video del Año a sus fans. Brit se vio espectacular en su vestido Versace plateado, triunfando en las tres categorías en las que estaba nominada: Video of the year – Video del año, Best Female Video – Mejor Video femenino y Best Pop Video– Mejor Video Pop con "Piece of Me".Gosh, fue emocionante, Britney estaba acompañada de su manager Larry Rudolph a quien también agradeció al recibir uno de sus premios. Go Britney! Britney Spears was just beautiful when she opened the MTV Video Music Awards las night at Paramount Pictures Studios in Los Angeles. Brit was a little nervous but she looks pretty in Versace, she walked on stage as her hit "Baby One More Time" blared. All the audience stood and applauded. "Thank you so much," she told the crowd. "Thank you for all the love. This is the 2008 Video Music Awards, and it starts right now." Then she come back to collect her first ever "moonman" for Best Female Video for "Piece of Me." Britney looked so happy and healthy on Sunday taking home three awards, including Video of the Year, for her video "Piece of Me". During her acceptance speech, she thanked God and her two sons for inpiring her. She also thanked her manager Larry Rudolph and dedicated the Best Video of The year awards to her fans. GO Britney!!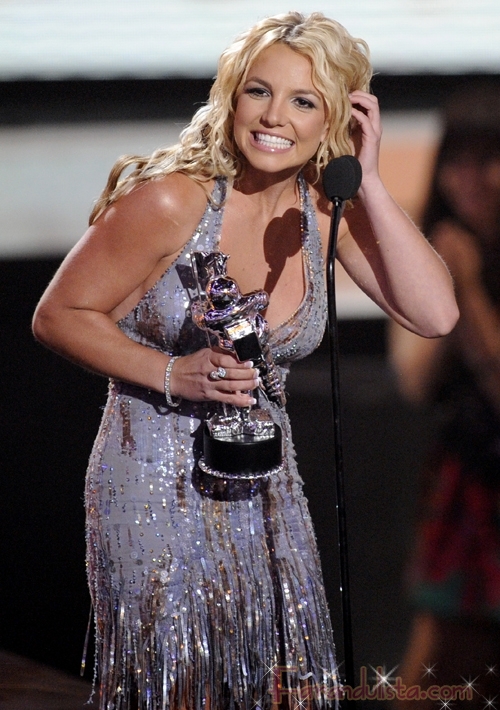 Britney Spears fue la sensación de los MTV VMAs
Getty Images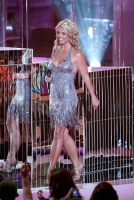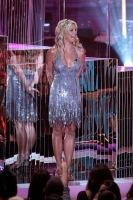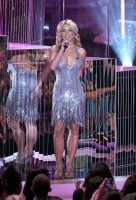 Britney Spears al abrir los MTV VMAs 2008
httpv://www.youtube.com/watch?v=3liJWxRJZo4
Britney Spears en la apertura de los MTV VMAs 2008 – Video
Ganadores de los MTV VMAs 2008 – 2008 /  MTV Video Music Awards Winners
Domingo, 7 de Septiembre, 2008 – 9:00 PM ET / Sunday, September 7, 2008 – 9:00 PM ET
BEST FEMALE VIDEO – Mejor Video Femenino

Mariah Carey, Touch My Body
Katy Perry, I Kissed A Girl
Rihanna, Take A Bow
Jordin Sparks, No Air
Britney Spears, Piece of Me
BEST MALE VIDEO – Mejor Video Masculini

Chris Brown, With You
Flo Rida, Low
Lil Wayne, Lollipop
T.I., No Matter What
Usher, Love This Club
BEST DANCING IN A VIDEO – Mejor Coreografia

Chris Brown, Forever
Danity Kane, Damaged
Madonna, 4 Minutes
Ne Yo, Closer
Pussycat Dolls, When I Grow Up
BEST ROCK VIDEO – Mejor Video de Rock

Fall Out Boy, Beat It
Foo Fighters, The Pretender
Linkin Park, Shadow of the Day
Parmamore, crushcrushcrush
Slipknot, Psychosocial
BEST HIP HOP VIDEO – Mejor Video de Hip Hop

Mary J. Blige, Just Fine
Lupe Fiasco, Superstar
Flo Rida, Low
Lil Wayne, Lollipop
Kanye West, Homecoming

BEST NEW ARTIST – Mejor Nuevo Artista

Miley Cyrus, 7 Things
Katy Perry, I Kissed A Girl
Jordin Sparks, No Air
Taylor Swift, Teardrops On My Guitar
Tokio Hotel, Ready, Set, Go! (Tienen que escuchar su música! Son buenos)

BEST POP VIDEO – Mejor Video Pop

Danity Kane, Damaged
Jonas Brothers, Burnin Up
Panic at the Disco, Nine in the Afternoon
Britney Spears, Piece of Me
Tokio Hotel, Ready, Set, Go!
VIDEO OF THE YEAR – Video del Año

Chris Brown, Forever
Jonas Brothers, Burnin' Up
Pussycat Dolls, When I Grow Up
Britney Spears, Piece of Me
The Ting Tings, Shut Up and Let Me Go
Pueden ver el resto de los ganadores de los MTV VIdeo Music Awards 2008 en MTV
[bgs]Britney Spears, MTV VMAs 2008[/bgs]