Lindsay recibio un anillo de compromiso en Mexico?
Samantha Ronson le propuso matrimonio a Lindsay Lohan en México durante sus recientes vacaciones. Según el reporte, Sam le obsequió un anillo Cartier a Lilo durante una cena en Cabo San Lucas y el mesero trajo el anillo en una bandeja de plata. La fuente del Hotel Esperanza, dijo a Star magazine UK, que Samantha le propuso matrimonio a Lindsay y esta aceptó. La pareja celebró con Cristal Champagne hasta las 2 a.m y luego se fueron a la habitación. Qué hicieron allí? Eso no lo dijeron. Mmmm… no sé, es muy gracioso leer las noticias, en serio, porque este mismo dia en otra fuente afirmaba que ellas estaban peleadas, porque Sam no quiere que Linds vuelva a estar de fiesta en fiesta. A cuál fuente le creemos entonces? Solo el tiempo dirá, por ahora Lindsay anda … de fiesta en fiesta, con no muy buena cara y delgadísima, ayer asistió a la fiesta de lanzamiento de Saks Fifth Avenue 'Key To The Cure' en el Top of The Rock, Rockefeller Center. I love her shoes!
Samantha Ronson proposed to Lindsay Lohan on holiday with a Cartier diamond band during their break in Mexico. Lindsay and Sam were having dinner by the beach in Cabo San Lucas, Mexico, when a waiter came over with the ring which was hidden inside a covered silver tray. A source at Esperanza hotel told Britain's Star magazine:  Sam asked her if she would marry her and the waiter popped a champagne cork as Lindsay accepted. The pair stayed up celebrating with Cristal champagne until 2am before disappearing into their hotel room together.  It's really funny because the same day another source claimed that Lilo and Sam were fighting because Sam doesn't want Lilo's partying all the time. Whatever! Here's Lindsay at the Saks Fifth Avenue's 10th annual "Key to the Cure"  charity shopping weekend launch at Top of the Rock, Rockefeller Center on October 14, 2008 in New York City.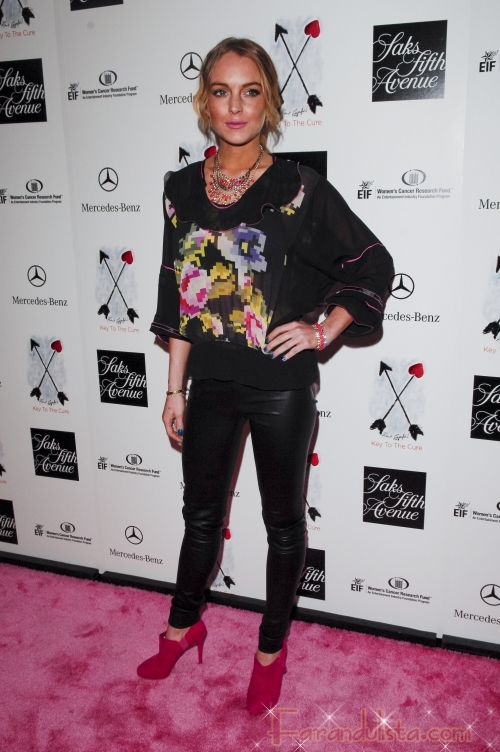 Lindsay Lohan recibió un anillo de compromiso de Samantha Ronson en Mexico
  Ray Tamarra/Getty Images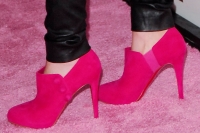 Lindsay últimamente no se ve bien, está muy delgada… no quiero pensar mal, ok, ya estoy pensando mal. Gosh! I love those shoes!
[bgs]Lindsay Lohan, Samantha Ronson[/bgs]