Madonna y Guy Ritchie anunciaran su divorcio
Madonna y Guy Ritchie finalmente hoy, anunciaran su inminente divorcio, reporta The NYPost. Dado que la pareja vive en Londres todo el papeleo de divorcio será realizado allá, y según una fuente llegaran a un acuerdo multimillonario. Otra fuente informó que el inminente divorcio entre la Reina del Pop y Guy Ritchie vino tras el último intento de la pareja por salvar su matrimonio a través de intensivos cursos de Kabbalah en Manhattan.  Se dice que Madonna no quiere anunciar su divorcio hasta que termine su gira mundial "Sticky and Sweet". La pareja tiene fuertes peleas porque los padres no se ponen de acuerdo en dónde viviran los niños, si en Londres o en los States. Madonna quiere volver a los States para que su hija Lourdes pueda ver a su padre, también dicen que Madge quiere adoptar otro niño y Guy se opone. Para colmo, Guy Ritchie no se presentó en la premier en New York de la comedia dirigida por Madonna, "Filth and Wisdom." Cuando intentaron llamar a los representantes de Madonna de los diversos medios, ningún representante devolvió o contestó las llamadas.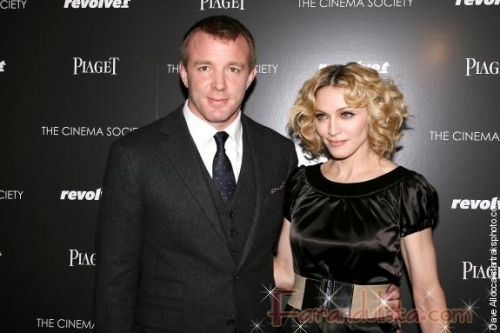 Madonna y Guy Ritchie ya no pueden ocultar su inminente divorcio

Una representante de Madonna ha declarado este miércoles (15/10) que la cantante Madonna y su esposo el Director Guy Ritchie se divorciarán tras 7 años y medio de matrimonio. El comunicado fue enviado por email a AP por Liz Rosenberg y dice que  la pareja ha acordado divorciarse y piden a los medios respeten su privacidad. En el comunicado también se dice que la pareja no ha llegado a ningún acuerdo.
A statement e-mailed to The Associated Press from Liz Rosenberg said that the couple had agreed to divorce, and requested the media maintain respect their privacy.

[bgs]Madonna, Guy Ritchie[/bgs]