Estas chicas de Disney son todo un ejemplo
The Cheetah Girls' Adrienne Bailon también tiene unas fotos a lo Vanessa Hudgens. La estrella de Disney (tremenda escuela!) y miembro del grupo The Cheetah Girls ha sido víctima de un ladrón despiadado que ha filtrado unas fotos de ella posando casi totalmente desnuda, mostrando el trasero. Un representante de la Cheetah Girl Adrienne Bailon alega que las fotos que circulan en la web, donde sale posando con solo un brassier y mostrando su trasero desnudo, fueron extraídas de su laptop cuando éste fue robado por unos minutos del aeropuerto de New York la semana pasada, dichas fotos eran para su novio Rob Kardashian (yeah, el hermano de Kimmy). Por cierto,  el representante de Adrienne expresó que la chica está profundamente avergonzada por cualquier daño que esto pudo haber causado a sus fans. Sure! The Cheetah Girls' Adrienne Bailon has issued a public apology dedicated to her fans soon after her racy pictures hit the Internet. The pics that show her wearing only bra and exposing her naked bottom to the camera reportedly are intended to be sent to her boyfriend Rob Kardashian. Her spokesman Jonathan Jaxson has issued a statement, explaining, "The photos that have surfaced of Adrienne Bailon were stolen from her laptop over a week ago at an airport in NY and sent to several media outlets." Jonathan reveals further, "These photos were taken in private. Adrienne will be pursuing legal action against the person or person's sending these private photos out." On top of the planned legal action, Adrienne "is deeply sorry for any pain this may have caused to her fans", Jonathan ends his statement.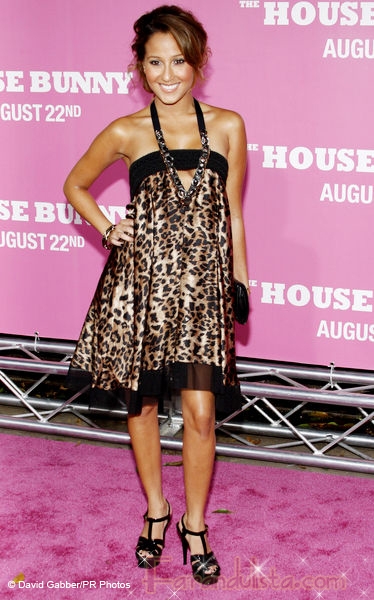 Aceshowbiz/David Gabber/PR Photos
Las fotos que han surgido de Adrienne Bailon fueron robadas de su laptop hace una semana en el aeropuerto de New York y enviadas a varios medios. Estas fotos fueron tomadas en privado. Adrienne estara tomando acciones legales contra la persona (o personas) que esté distribuyendo estas fotos.
[bgs]Adrienne Bailon, The Cheetah Girls, Disney[/bgs]