Miley Cyrus fue victima de un hacker HOAX que la mato
Durante este domingo algún idiota se le ocurrio la estúpida idea de colocar un video que se titulaba RIP Miley Cyrus en la página de Miley and Mandy Show en youtube. En el video se decía que Miley Cyrus había sido arrollada por un conductor ebrio y que había muerto. En el fondo del video se podía escuchar la nueva canción de Miley "Goodbye", con un mensaje de la mejor amiga de Miley, Mandy Jiroux. En dicho mensaje la BFF de Miley daba la triste noticia de la muerte de la Hannah Montana. Early Sunday, a video posted on the "Miley and Mandy Show" YouTube page falsely claimed she'd been killed by a drunken driver. Set to the sound of Miley's weepy new single "Goodbye," the more than two-minute-long video featured a grim message from Miley's BFF Mandy Jiroux. But Jiroux tells E! News that the video is the work of "a hacker"—not her—and that, as of Sunday afternoon, the hacker video was in the process of being removed from the site.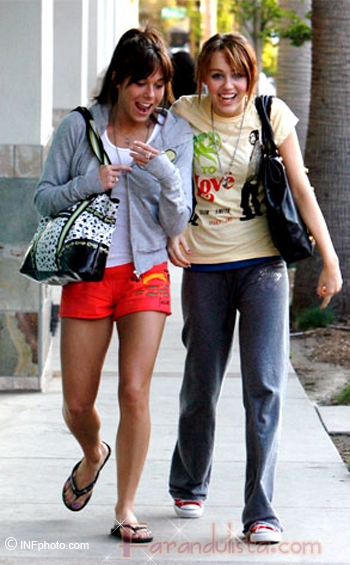 El mensaje decía lo siguente: "Hey chicos, soy Mandy y tengo malas noticias Nos duele muchisímo decirles esto pero Miley murió esta mañana luego de ser arrollada por un conductor ebrio. Miley nos dijo que si aluna vez le pasaba algo, entonces debíamos hacerles saber a sus fans antes que el público en general…R.I.P querida, te extrañaremos mucho"

Jiroux's supposed message reads: "Hey guys, this is Mandy and I have some very sad news …We're very hurt to tell everyone this, but Miley died this morning after being hit by a drunk driver. Miley told us if anything ever happened to her, then we should let her fans know before the public…R.I.P. honey, we will miss you so much."
Obviamente esto se ha desmentido, Miley Cyrus está bien (pronto veremos alguna otra de sus travesuras). Jiroux le dijo a E! News que ese video fue colocado por un hacker, no por ella (Of Course!!) y que el mismo domingo en la tarde el video estaba en proceso de ser removido de la web. OMG!! Qué los hackers no tienen otra cosa más productiva que andar molestando a Miley Cyrus??? Con tantas cosas interesantes para 'hackear' En serio, me parece increíble que un'hacker' se dedique a molestar a Miley. Sorry! No puedo creer que un 'hacker' (sí, así entre comillas) haya colocado ese video, me suena a cruel promoción de su nueva canción.
   Miley Cyrus promocionando "Bolt" en New York, NY. (14/11)  

  Armando Gallo / Ret

na Ltd.   
Yeahh, yo coloqué la misma cara de Miley en la última foto… WTF?? Una cosa es criticarlos y reirse, pero esto es el colmo
[bgs]Miley Cyrus, Hannah Montana[/bgs]