Scarlett Johansson habla de Lindsay en su entrevista con Allure
Scarlett Johansson habla de la bronca con Lindsay Lohan en la entrevista con Allure magazine (Diciembre 2008). La musa de Woody Allen expresa que no tiene idea de por qué no le agrada a Lindsay. Según el rumor, Lindsay escribió palabras obsenas hacia Scarlett en un baño de New York hace dos años y medio atrás. Sobre su vida privada no quizo decir absolutamente nada, ni cómo se conoció con su esposo Ryan Reynolds (Hello Ryan!!) ni qué significa el horroroso tattoo que tiene en el brazo. Scarlett Johansson does the December issue of Allure magazine and in the interview she talks on the feud with Lindsay Lohan. Scarlett says she doesn't know why Lilo doesn't like her. "I really don't know that person. I only met her, like, three times. Lilo famously scrawled vulgar words about the actress on a Big Apple bathroom stall 2½ years ago. "That's what I heard," Johansson says of the incident. "I don't know what the motivation was behind that. I remember it was something really vulgar — I mean, shockingly so, like, 'Whoa, what, who are you?'" Scarlett  zipped her lips about her personal and romantic life and also she didn't want to say the meaning of the ugly tattoo on her forearm.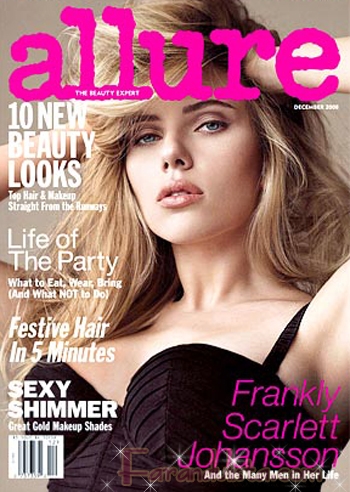 Realmente no la conozco. Solo la he visto en tres ocasiones. (Sobre lo que Lilo escribió de ella) Eso fue lo que escuché. No sé que la motivó a hacer eso. Recuerdo que fue algo realmente vulgar. Es decir, fue muy impactante, fue como, Woa, Qué?  Quién eres tú?
Vaya no hay que ser muy inteligente para saber que fue ENVIDIA! Scarlett es contemporánea con Lilo y es la musa de Woody Allen, en cambio Lilo es famosa por ebria, drogadicta y parrandera. Daaah!
[bgs]Scarlett JOhansson, revistas, Lindsay Lohan[/bgs]