Britney ahora no es tan feliz como parece?
Britney Spears ha sido citada diciendo que ha perdido la pasión y que se siente como una prisionera perenne en su nueva vida. La cita es del documental de MTV Britney For the Record, que saldrá al aire el 30 de Noviembre. El documental de 90 minutos es producido por Larry Rudolph, el manager de Brit. Mmmm… creo que sus palabras son sacadas de contexto (I hope so) porque de no ser así, parece que Britney solo se comporta bien porque tiene que hacerlo y pagar por su famoso ataque de locura, es decir lo hace porque está obligada, y esto es muy grave ya que indicaría que la Brit Brit de la peluca rosa podría aparecer de nuevo. Britney Spears is quoted saying she lost the passion and she feels like a prisoner in her new life. In the upcoming documentary Britney: For The Record Britney talks about her life over the past two years and her well documented meltdown. The 90-minute special, Britney: For The Record, was executive-produced by Spears' manager Larry Rudolph. I hope she is talking on how she felt on the past, becuse if she feels like this right now, she's not happy at all. And maybe pink Brit Brit is yelling on her head.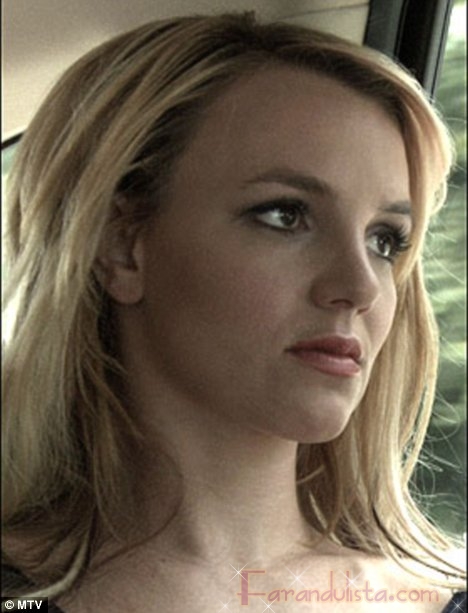 NO hay emoción, no hay pasión. 'There's no excitement, there's no passion.

Tengo dias muy buenos, y luego muy malos. Incluso cuando vas a la cárcel sabes cuándo saldrás. 'I have really good days, and then I have bad days. Even when you go to jail, y'know, there's the time when you're gonna get out.

Pero en esta situación, nunca termina. Es como El DIa de la Marmota (Un dia que se repite una y otra vez) 'But in this situation, it's never ending. It's just like Groundhog Day every day.'

Creo que es demasiado control. Si no estuviese tan controlada, y lo estoy, me sentiría más liberada. Cuando les digo cómo me siento, es como que oyen pero no me escuchan.  'I think it's too in control. If I wasn't under the restraints I'm under, I'd feel so liberated. When I tell them the way I feel, it's like they hear but they're really not listening.

Si haces algo mal en tu trabajo, puedes continuar, pero yo tengo que pagar por un muy largo tiempo. 'If you do something wrong in your work, you can move on, but I'm having to pay for a long time.

Nunca quise convertirme en uno de esos prisionesros. Siempre quise ser libre.'I never wanted to become one of those prisoner people. I always wanted to feel free.'

Creo que aprendí mi lección, ya es suficiente. 'I think I've learnt my lesson now and enough is enough.'
Si Britney es tan infeliz (digo, de ser ciertas las suposiciones) Por qué no se retira y ya? Puede hacerlo, tiene dinero, propiedades. Porque al leer esto parece que está trabajando y portándose bien porque la Ley se lo ordena. Sinceramente, hay que ver el documental completo.
[bgs]Britney Spears[/bgs]