Gaga sigue siendo toda una Lady
Lady Gaga ha respondido a los comentarios despectivos que ha hecho Christina Aguilera donde expresó que no sabía si  [Lady Gaga] era un hombre o una mujer.  Gaga como toda una dama ha simplemente expresado que no tomas [lo dicho por Xtina] como una ofensa, ya que su look es totalmente andrógino. Y que ella no tiene enemigos. HA! Esto viene porque fans de Gaga acusan a Christina Aguilera de robar su looks, mientras los fans de Aguilera dicen que ella llevó la peluca y todo primero. Whatever! Gaga wins! Lady Gaga has responded to a series inflammatory comments thrown her way by Christina Aguilera with a dose of ice-cold dismissal. In a recent interview the singer was asked about the bitchy comments made by Aguilera, who said in an interview she didn't "know if [Lady Gaga] is a man or a woman".
No lo tomo como una ofensa. Estoy inspirada por andróginos como David Bowie y Grace Jones.

No tengo un 'look'. Visto así todo el tiempo. No tengo enemigos.

"I don't take offense to it. I'm inspired by androgyny and David Bowie and Grace Jones," said Lady Gaga.

"I don't have a 'look'. I dress like this all the time. I have no enemies."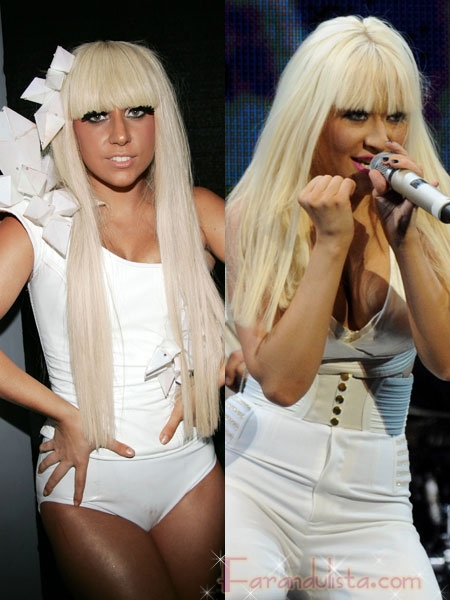 No es la primera vez que Gaga demuestra ser una mujer madura e inteligente, la primera vez que le preguntaron por el look de Christina dijo que no le parecía una copia (de el de ella) y que su nueva canción (Keeps Gettin' Better) era HOT! So, qué le costaba a Xtina ser un poco más humilde. Eso no le quitará sus Grammys ni su extraordinaria voz.