Los Jonas Brothers en Jimmy Kimmel Live
Los Jonas Brothers Kevin, Nick y Joe estuvieron en el show Jimmy Kimmel Live para una presentación y hablaron sobre su vida personal. Los chicos conversaron sobre sus comidas favoritas, los paquetes más extraños que les han enviado las fans, sobre su nuevo álbum y libro 'Burning Up'. Los Jonases están de acuerdo en quen es el hermano más famoso  – su hermanito de 8 años Frankie. En una encantadora entrevista, los hermanos contestaron a las preguntas de las fans quienes esperaron en fila toda la noche para verlos en el show.
Kevin, Joe and Nick Jonas stopped by "Jimmy Kimmel Live" last night for a special outdoor performance and opened up to Jimmy Kimmel about their personal lives. The trio talked about their favorite foods, the weirdest packages they have received and their new album and book. The brothers are in agreement as to which brother is the most popular—their 8-year-old brother Frankie. In the very charming interview, the siblings answered live questions from fans who had waited in line over night to see them on the show.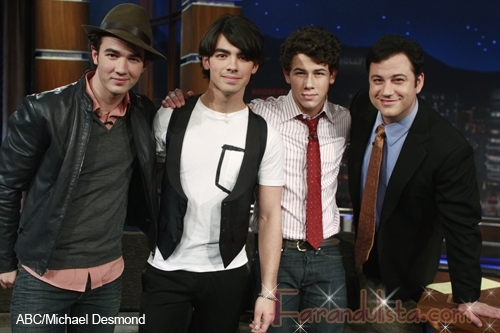 Kevin Jonas, Joe Jonas, Nick Jonas y Jimmy Kimmel
httpv://www.youtube.com/watch?v=HqY3YlKkDsI
Entrevista (En Inglés)  de los Jonas Brothers en Jimmy  Kimmel Live – Video
[bgs]Jonas Brothers, Nick Jonas, Joe Jonas, Kevin Jonas[/bgs]