Tom Cruise se enamoro de Katie Holmes en la primera cita
Tom Cruise supo que se casaría con Katie Holmes y le compró el anillo de compromiso luego de la primera cita! OMG!! Eso es amor  a primera vista! Awww… para Tom, porque Katie lo amaba desde que estaba niña. Se imaginan? Casarse con el chico del poster gigante de tu habitación? Well, En mi caso hubiesen sido unos cien… LOL Anyway, Tom confesó que quiso casarse con Katie desde el primer momento que la conoció en la edición de Diciembre 7 de T: The New York Times Style Magazine, donde Tomkat aparece en una edición "Holiday/Reinvention" de doble portada. Katie le confesó que ella soñaba con casarse con el desde que era pequeñita, y Tom no quiso decepcionarla. Así que Tom compró el anillo de compromiso inmediatemente luego de su cita.  "I knew I wanted to marry Kate when I met her," Tom Cruise says in the Dec. 7 issue of T: The New York Times Style Magazine, in which he and his wife of two years appear on split covers for the "Holiday/Reinvention" issue. When Katie confessed to him that she dreamed of marrying him as a little girl, "I said I wouldn't want to disappoint her," Cruise says. So, Tom says, he bought Holmes an engagement ring shortly after their first date in 2005. In a separate interview, Holmes — who says she "admired him growing up" — admits she also was "completely in love" after their first meeting.
Supe que quería casarme con Kate cuando la conocí.

I knew I wanted to marry Kate when I met her"

En un punto, pensé que ella me iba a preguntar [si me casaría] primero, así que me le adelanté, quise preguntárselo.

"At one point, I thought she was going to ask me to marry her first and I put her off by changing the subject," Cruise adds. "I wanted to ask her."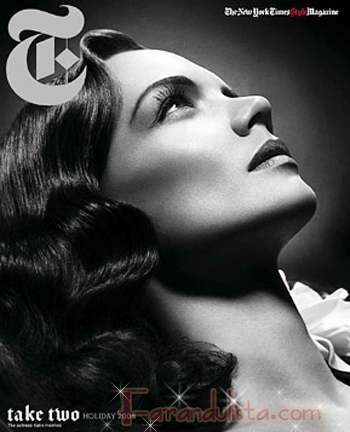 Él fue tan encantador, y pensé, Woow puedes ser una superestrella y un ser humano.

"He was so warm, and I thought, 'Wow,'" says the star. "I thought, 'You can be a superstar and a human being.'

Me hizo sentir tan increíble.

"He made me feel so amazing," adds the actress, who welcomed their daughter Suri in 2006.
[bgs]Katie Holmes, Tom Cruise, Tomkat[/bgs]