Brad Pitt en Rolling Stone magazine
Brad Pitt aparece en la portada de Rolling Stone magazine (Holly Photoshop Batman! parece que le quitaron unos 10 años de encima) y habla sobre su más reciente film The Curious Case of Bejamin Button, además revela cual es la película favorita de Angelina ( Pueden adivinar?) Mr. Adn Mrs. Smith (… awww y) Por qué? Por que Brad se enamoró. OMG!! No fue conmigo y me dolió! Esto es un KO para Jennifer Aniston, pobre. Brad está confesando (lo que todos sabíamos) que efectivamente él y Angelina se enamoraron en el set del film cuando Jennifer Aniston aún era su esposa. Well, así es la vida un dia se aman otros se odian, o ni se conocen. Brad en la entrevista también revela que va a misa todos los domingos.
Brad Pitt does Rolling Stone magazine and talks on his latest films The Curious Case of Benjamin Button. He looks really airbrushed on the cover shot, and he reveals that Angie's favorite movie is Mr. and Mrs. Smith Why? Because he fell in love. (ouch !) OMG!! Brad is confessing that he and Angie fell in love on the set while he was married with Jenn Aniston.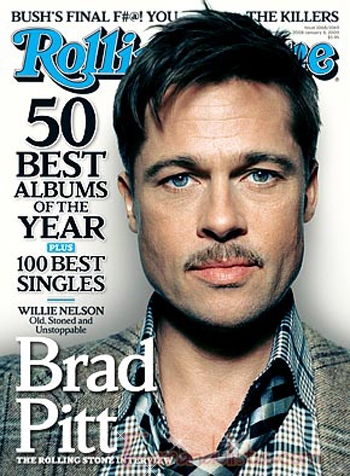 Brad Pitt en la portada de Rolling Stone magazine
[bgs]Brad Pitt, Brangelina[/bgs]