Jennifer Aniston se desnuda en GQ magazine
Jennifer Aniston posó desnuda para la portada de GQ magazine Enero 2009 y habla sobre los rumores de embarazo y proposición de matrimonio con su novio John Mayer, también bromea sobre ser muy cercana a los Jolie-Pitt, tanto que van a los Hamptons juntos. LOL Jennifer Aniston looks sexy and Naked on the January 2009 cover of GQ magazine. An smiling Jenn shows her great body in just a tie. During the interview she pokes on the constant rivality between her and Angelina and dismissed rumors on pregnancy and proposal.
[sobre las constantes guerras (creadas por los tabloides) entre ella y Angelina]

"Lo gracioso es que la gente no se da cuenta que vamos a The Hamptons los fines de semana. Pero puedes imaginartelo? Eso sería para morirse de risa, tengo a Zahara en mi cadera y a Knox…"

["The funny thing is, people don't realise we all go away to The Hamptons on the weekends. But can you imagine? That'd be hysterical: I've got Zahara on my hip, and Knox…"´]

[sobre si ella y Brad mantienen contacto]

"No, no hablamos [ella y Brad]. Pero cuando hay algún motvo de felicitación o algo que celebrar siempre hay algun intercambio de palabras. Pero más nada"

["We don't not talk. When there's something to congratulate or celebrate, there's always an exchange. But there's no charge on it."]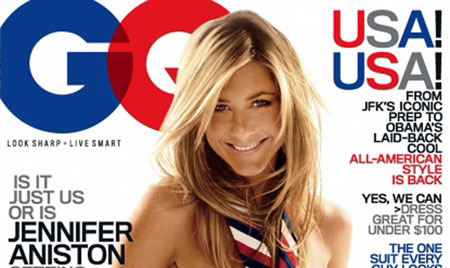 [click para ver la imagen completa]
[Los rumores de embarazo y propuesta de matrimonio]

"No estoy embarazada [de John Mayer]. Ni le he propuesto matrimonio"

["I am not having his baby. And I have not popped the question.]

"Lo que puedo decir es que no tenía ni idea del músico extraordinario que es y solo sentarse a verlo es grandioso."

"What I can say is that I had no idea what an extraordinary musician he is and it's just great to sit and be witness to that."
Ok, en las entrevistas ya deben olvidar el tema Jolie-Aniston-Pitt porque ya cansa, si Jennifer ya lo dejó atrás,  Para qué le siguen preguntando?   Lo peor es que en la revista no colocan: Le preguntamos a Jenn sobre Brad y Angelina… NO! Ellos van y dicen: Jenn Aniston habló de Brad y de Angelina. GET OVER IT!!!
Pero sinceramente la reacción de Jenn… ROLF!
photos Michael Thompson/GQ