Angelina y Jennifer Aniston finalmente cara a cara
Jennifer Aniston y Angelina Jolie finalmente se encontraran cara a cara. Esto suena a boxeo o Lucha libre, huh? De acuerdo a la nueva portada de OK! magazine, Finalmente, luego de … cuántos años? Sorry… wait, dos?, …cuatro?  aaah síp cuatro años (gosh, parecen siglos) Angelina Jolie y Jennifer Aniston se verán las caras en la after party del Oscar a celebrarse el 21 de Febrero en Beverly Hills. Qué tal? Se imaginan que se saluden de beso y se vayan abrazadas cual amigas?? O una llegue y le de una patada voladora a la otra?? LOL Ok, mi imaginación está pero que la de Star, sorry. Según el tabloide, nadie más está más ansiosa que Jen  por este encuentro, porque ahora ella tiene a John Mayer … (Excuse me?  OMGLOL Hello!?  Angie tiene a Brad y a un ejercito de babies… Psss). I Love Jen pero argumentar esto es HILARIOUS!!   Jennifer Aniston and Angelina Jolie will finally see each other at the Feb. 21 Night Before the Oscars party in Beverly Hills. Ever since Brad Pitt split from Jen in Jan. 2005 and hooked up with Angie, the world has waited for this Hollywood showdown — and no one is more anxious about this emotional encounter than Jen because she's now with John Mayer, according to OK!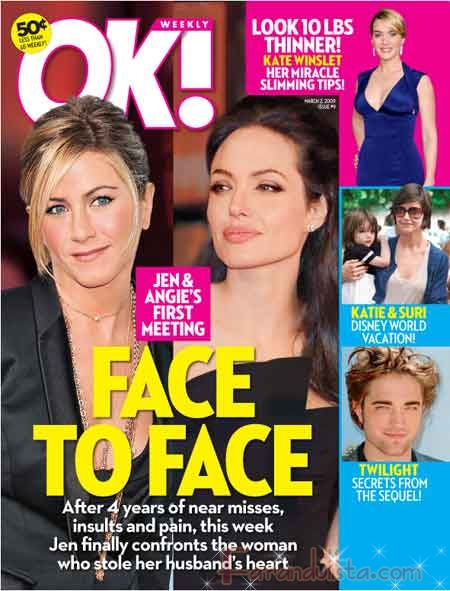 Jennifer siempre supo que este momento pasaría y nunca había estado más lista para ver a su némesis Angie, en carne y hueso. Ya no está sola, tiene a un hombre sexy a su lado – John Mayer – y planea llevarlo como su pareja a la fiesta.

"She has always known that this moment would happen and she's never been more ready to see her nemesis, Angie, in the flesh," a source tells OK! of the 40-year-old He's Just Not That Into You star. "She's no longer alone — she has a hot man in her life — John Mayer — and she plans to bring him as her date to the party."

La fuente agrega que Jen se ha sentido muy segura desde que se reconcilió con John el año pasado luego de su rompimiento breve. "Ha tomado tiempo, pero [Jen] ha dejado atrás sus inseguridades con Brad y Angelina y su enorme y feliz familia. Obvio ese encuentro será difícil, Jen lo sabe y tiene que ocurrir y ahora no podía ser el mejor momento.

The insider adds that Jen has felt very confident ever since reuniting with John, 31, last year after their brief breakup. "It's taken time, but she's getting past her insecurities about Brad and Angie and their huge happy family. Though the meeting is sure to be difficult, Jen knows it has to happen and now couldn't be better timing."
Blah! Esto es más de lo mismo con un poco de… NADA!! Come on! No pueden comparar las dos vidas. Y tampoco me creo eso de que Jen estaba insegura o que quiera ahora sí ver a Angie porque tiene a John… Big Deal! Anyway, sería interesantísimo ver ese momento, no lo creen así Farandulistas?
OMG!! Vieron el titular de Kate Winslet?? Her miracle slimming tips?? WTF?? Ni que hubiese sido obesa!!
[bgs]Angelina Jolie, Jennifer Aniston, Brad Pitt, revistas[/bgs]