La Lohan en Nylon magazine habla de su futuro y de Britney
Lindsay Lohan aparece en la Edición Aniversario número 10 de Nylon Magazine. La Lohan habla de su futuro, de la obsesión de los tabloides con ella y de Britney Spears. En la portada Lindsay posa con su típica cara de Come Hombres (Ha! Dije hombres??) Lindsay Lohan a Pin-up for a new era. WTF? … Aaah… sip,  la era de la recesión!! Right!! Lindsay Lohan does the 10th Aniversary issue of Nylon. Lindsay talks on her future, the tabloids obssesion with her and Britney Spears. She looks like a lollypop on the cover shot, but Nylon says Lindsay Lohan, a pin-up for a new era… right!  It's funny how the high boots hide her skinny legs. Lindsay needs to eat NOW!!
Sobre su futuro:

Estoy en conversaciones con varias personas. Una de ellas es Sean Penn – Hablé con él otra vez el otro dia. Queremos a Seth Rogen para este proyecto, pero Seth no nos devolvió la llamada. Así que llámanos Seth, si estás leyendo esto!

On her future:
I'm talking to [lots of people]. One is Sean Penn – I spoke to him again the other day. We're trying to get Seth Rogen for this project, but Seth won't call us back. So call us back, Seth, if you're reading this!

Sobre Britney Spears

Ella está en el mercado como una 'show-woman', lo cual es lo que es. No necesariamente como artista. Y respeto eso sobre ella, porque ella no intenta ser quien no es.

On Britney Spears:
She's marketed as an entertainer, which is what she is. Not necessarily as, like, an artist. And I respect that about her, cause she doesn't want to pretend.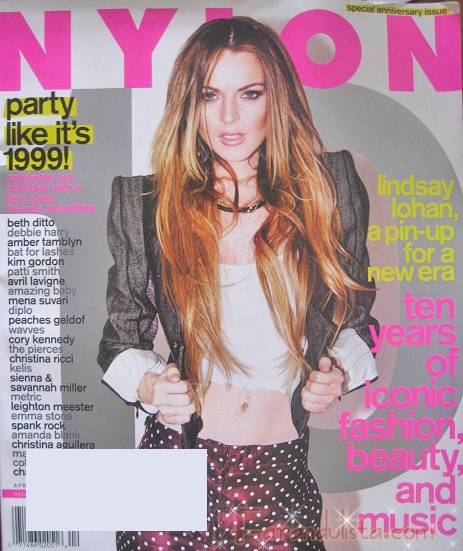 Lindsay Lohan en Nylon magazine  – Edición 10 Aniversario
Fotos de Lindsay Lohan para Nylon magazine 10 Aniversario
[bgs]Lindsay Lohan, revistas[/bgs]