Lindsay Lohan acusa a Samantha Ronson de usar drogas
Y el espectáculo ha comenzado!!! Lindsay Lohan ha acusado a su ex novia Samantha Ronson de usar drogas y de engañarla. Esto lo dijo Lindsay a través de su cuenta de Twitter. Samantha y Lindsay terminaron – según porque Samantha le fue infiel – en una pelea atómica donde tuvieron que llamar a la policia, incluso Sam cambió la cerradura de su casa. Samantha prohibió la entrada de Linds a la fiesta que diera su hermana la diseñadora Charlotte Ronson. Ahora Lindsay está como loca herida y ha empezado a soltar todos y cada uno de los trapitos sucios al aire… Y esto se pone mejor. Esto fue lo que se vio en el Twitter de la Lohan: Jackdaniels9 es Lindsay y Jackdaniels es Samantha. Lindsay Lohan and Samantha Ronson have split up after Sam allegedly cheated on her. A message on the Lohan's Twitter said: "being cheated on does wonders to you." She then messaged Ronson saying: "PLEASE leave me ALONE. and stop staying in the room below me, you've woken me and my mother up. go to bed. keep cheating u win." A further LiLo Tweet said: "I'm doing this publicly because u&ur friends call people mag..so-you win, you broke my heart. now go away. i loved you"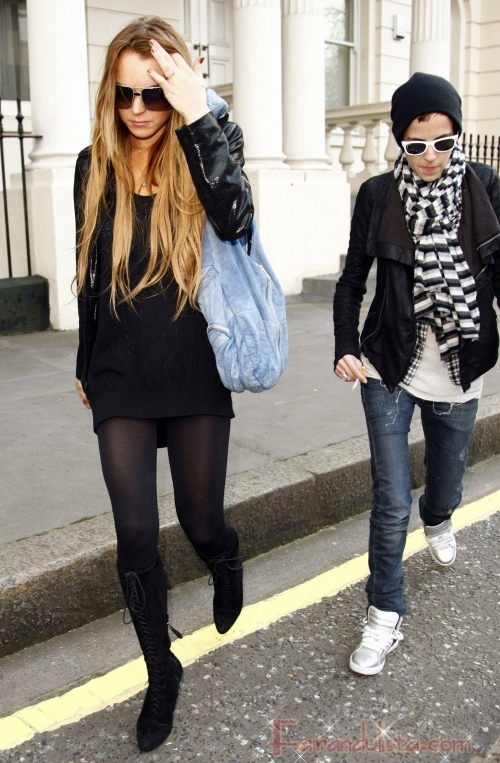 Lindsay ha acusado a su ex novia Samantha Ronson de usar drogas y de engañarla
Linds y Sam en Londres - (27/02)
bauergriffin.com
@jackdaniels9 I was right all along. Cheat
about 21 hours ago from TwitterBerry

@jackdaniels9 being cheated on does wonders to you
about 10 hours ago from web

@jackdaniels PLEASE leave me ALONE. and stop staying in the room below me, you've woken me and my mother up. go to bed. keep cheating u win
about 10 hours ago from web

@jackdaniels9 look, im doing this publicly because u&ur friends call people mag..so-you win, you broke my heart. now go away. i loved you
about 10 hours ago from web

@jackdaniels9 please go away. & go to bed. u work hard, & u need some rest. those around u are clearly negative influences. miss u.be wellxx
about 9 hours ago from web in reply to jackdaniels9

@jackdaniels9 ask ur sister 2 stop yelling profanity plz;;stop doing drugs. and tell charlotte to do more-she could loose a stone or 10.
about 9 hours ago from web in reply to jackdaniels9

@lilyroseallen OMG WOMAN! CAWLLLL MEEEEEEEE im meeting you in san fran babydoll
about 2 hours ago from web in reply to lilyroseallen

@lilyroseallen oy dafty fella ring me on my cellular woman. d message me for the new digiez
about 1 hour ago from web in reply to lilyroseallen

@jackdaniels9 oh- it's like this? fine. Byebye
about 1 hour ago from web in reply to jackdaniels9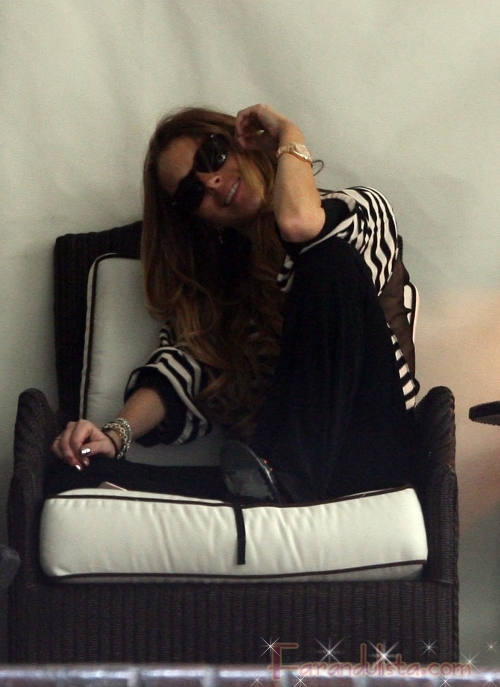 Lindsay posando para las cámaras luego de que la policía
se presentara en el Chateau Marmont a deteter la pelea entre ella y Sam.
Fame
Lo insólito es Lindsay ha negado que Samantha le sacara de la casa y cambiara la cerradura!!! Y dijo sobre la Fiesta de Charlotte Ronson, donde Sam le prohibió la entrada – que ella no iba porque no se llevaba bien con Charlotte. Gosh, Lindsay enloqueció!! Cu Cú, Cu cú!!
Cambiamos la cerradura porque gente como ustedes estaban tratando de entrar a la fuerza.

«We changed the locks because people like you were trying to break in.»

No fui a la fiesta porque yo amo a Samantha no a Charlotte. Charlotte no es agradable conmigo.

«I didn't go to the party because I love Samantha not Charlotte. Charlotte's not nice to me.»
Increíble, que razón tenía el padre de Lindsay. Lindsay necesita ir a rehab, centrarse. No cabe duda que perdió la cabeza. Si con eso quería volver con Sam… darling, ese barco ya zarpó!
[bgs]Lindsay Lohan, Samantha Ronson, parejas famosas[/bgs]