Gisele Bundchen se casa por segunda vez y hay disparos
La supermodelo Gisele Bundchen se casó por segunda vez con Tom Brady en Costa Rica, en una hermosa ceremonia de atardecer. Pero durante la boda, los agentes de seguridad contratados para mantener alejados a los paps, dispararon contra el vehículo de dos fotógrafos. Ambos fotógrafos estaban escondidos en los arbustos en frente de la casa de Gisele tomando  fotografías cuando fueron sorprendidos por los agentes.  Luego de que los fotógrafos se negaran a entregar las cámaras, ambos corrieron hacia su jeep con los agentes siguiéndoles, fue allí cuando se efectuaron los disparos. Nadie salió herido. Gisele Bundchen vendió los derechos exclusivos de las fotos de su boda a una revista brasilera.   Gisele Bundchen y Tom Brady se casaron por primera vez en Los Angeles el 26 de Febrero, tras negar una y otra vez su compromiso.
Gisele Bundchen and Tom Brady get hitched again in Costa Rica. It was a lovely sunset ceremony and Gisele was gorgeous. But security guards hired to keep paparazzi away fired at two photographers as they fled with pictures, the Boston Globe reported. No one was hurt, though the photo agency that hired the two said they «narrowly escaped death» when bullets shattered the back windshield of their jeep and then hit the vehicle's front window. According to the photo agency, two photographers were hiding in the brush near Bundchen's beachfront home in Mal Pais home taking pictures when they were challenged by security guards. Bundchen had reportedly sold exclusive rights to the photos from the wedding to a Brazilian magazine. After the two photographers refused to give up their pictures, they ran back to their jeep with the security guards following. That is when the shots were fired by the guards. «Nobody was hurt, but it was very close,» a spokesman told the Globe.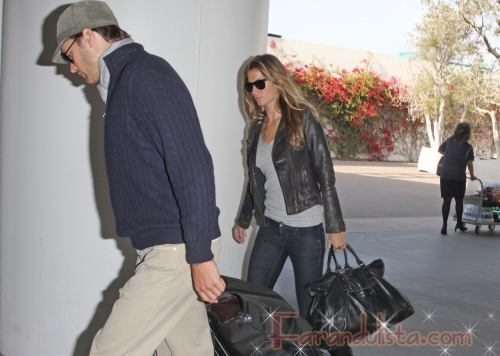 Gisele y Tom en el aeropuerto de L.A LAX (31/03/2008)
bauergriffin.com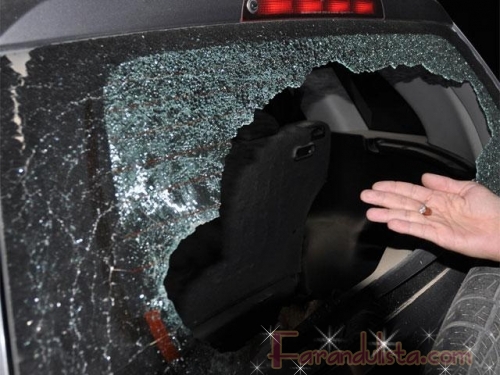 Así quedó el vehículo de los paps que intentaron tomar fotos de la boda de Bundchen,
luego de negarse a entregar las cámaras.
[bgs]Gisele Bunchen, Tom Brady[/bgs]