Katherine Heigl y su hija en W magazine| Katherine Heigl's daughter on W |
Katherine Heigl y su hijita Naleigh posaron para W magazine. Heigl y su hermosa baby posan para la edición familiar de Diciembre de W magazine, la actriz ataviada al estilo Hollywood Glamour lleva en brazos a su hija a quien adoptó en Corea. En la sesión fotográfica Katherine posa también con otros miembros de su familia, incluyendo su madre Nancy y su hermana Meg. En la entrevista la hermosa actriz dice que espera que algún dia su hija y su hermana Meg – quien también es Coreana y adoptada – puedan hablar de como se siente ser adoptada. Farandulistas qué opinan de esta portada? IMO, la portada es bonita pero, i don't know,  luce fria… come on, estás posando con tu hija podrías ser mas tierna… no?
Katherine Heigl poses with her gorgeous adopted baby daughter Naleigh for the cover of W magazine's The Family Issue. She looks gorgeous in Hollywood Glamour style. In the photo shot  she also poses with more of her family, including mum Nancy and sister Meg. In the interview she says «My sister is Korean, I hope one day she and Naleigh will be able to talk about what it's like to be adopted.»  I like Katherine and her gorgeous baby Naleigh but this photo is not cute at all, i mean,  she is posing with her baby but looking cold.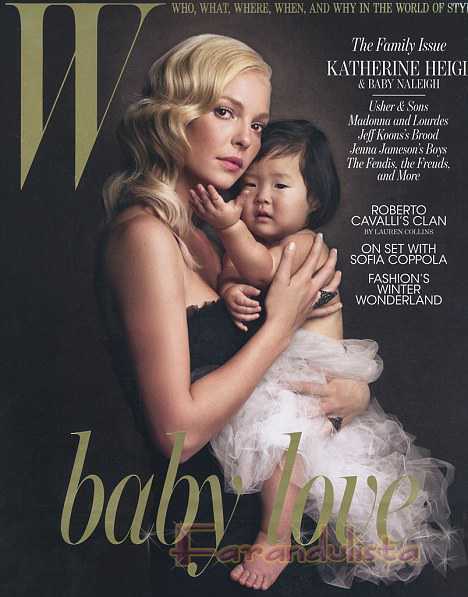 Preview: Katherine Heigl y su hija Naleigh en W magazine