Nominados a los Oscar 2013
Ya se conocen los nominados a los Premios Oscar 2013. La actriz Emma Stone y Seth MacFarlane fueron los encargados de anunciar el tan esperado listado. Los notables desprecios de este año incluyen a Ben Affleck y Quentin Tarantino en la categoría de Mejor Director. La sorpresa fue las nominaciones en la Categoría de Mejor Actriz a Emmannuelle Riva (Amour) y Quvenzhane Wallis (Beast of The Southern Wilde). Riva tiene 85 años y es la actriz con más edad en ser nominada en esa categoría, y Wallis tiene 9, por lo que es la más joven. Jennifer Lawrence está nominada a Mejor Actriz por su rol en Silver Lining Playbook, Anne Hathaway por su papel en Les Miserables. Hugh Jackman está nominado como Mejor Actor por su interpretación en Les Miserables, Skyfall está nominada como Mejor Canción original. El film chileno 'No', recibió una nominación en la categoría Mejor Film Extranjero. Check it out!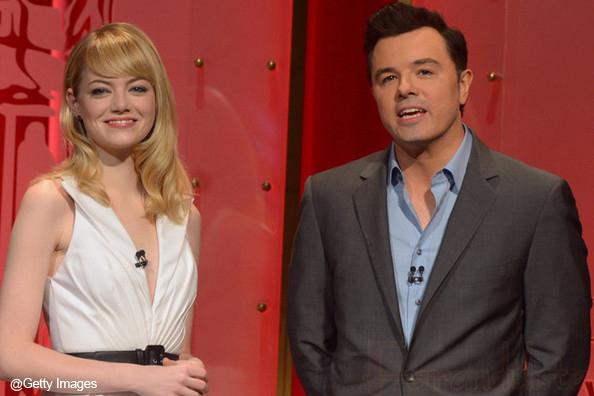 zimbio.com



Nominados a los Premios Oscar de la Academia 2013
Mejor Actor/Best Actor
Daniel Day-Lewis, Lincoln
Hugh Jackman, Les Miserables
Denzel Washington, Flight
Bradley Cooper, Silver Linings Playbook
Joaquin Phoenix, The Master
Mejor Actriz/Best Actress
Naomi Watts, The Impossible
Jessica Chastain, Zero Dark Thirty
Jennifer Lawrence, Silver Linings Playbook
Emmanuelle Riva, Amour
Quvenzhane Wallis, Beasts of the Southern Wild
Mejor Actor de Reparto/Best Supporting Actor
Christoph Waltz, Django Unchained
Phillip Seymour Hoffman, The Master
Robert DeNiro, Silver Linings Playbook
Alan Arkin, Argo
Tommy Lee Jones, Lincoln
Mejor Actriz de reparto/Best Supporting Actress
Jacki Weaver, Silver Linings Playbook
Amy Adams, The Master
Helen Hunt, The Sessions
Anne Hathaway, Les Miserables
Sally Field, Lincoln
Mejor Director/Best Director
David O. Russell, Silver Linings Playbook
Ang Lee, Life of Pi
Steven Spielberg, Lincoln
Michael Haneke, Amour
Benh Zeitlin, Beasts of the Southern Wild
Mejor Guión Adaptado/Best Adapted Screenplay
Beasts of the Southern Wild, Lucy Alibar and Benh Zeitlin
Argo, Chris Terrio
Lincoln, Tony Kushner
SIlver Linings Playbook, David O. Russell
Life of Pi, David Magee
Guión Original/Original Screenplay
Flight, John Gatins
Zero Dark Thirty, Mark Boal
Django Unchained, Quentin Tarrantino
Amour, Michael Haneke
Moonrise Kingdom, Wes Anderson and Roman Coppola
Mejor Canción Original/Best Original Song
"Before My Time," Chasing Ice
"Pi's Lullaby," Life of Pi
"Suddenly," Les Miserables
"Everybody Needs a Best Friend," Ted
"Skyfall," Skyfall
Mejor animación/Best Animated Feature
The Pirates: Band of Misfits
Frankenweenie
Wreck-It-Ralph
Brave
ParaNorman
Mejor Film Extranjero/Best Foreign Language Film
Amour – Austria
No – Chile
War Witch – Canada
A Royal Affair – Denmark
Kon Tiki – Norway
Mejor Película/Best Picture
Beasts of the Southern Wild
Silver Linings Playbook
Zero Dark Thirty
Lincoln
Les Miserables
Life of Pi
Amour
Django Unchained
Argo
———————————
N.E: Ciertamente, el film 'No' es de Chile, no Brasil (Zimbio lo tenía como brasilero). Gracias a RekishiBeruto por la corrección. 😉
Pueden revisar la lista completa de nominados en la página oficial de los Oscars.