Ganadores de los Oscars 2014: Jared, Lupita, Matthew…
Ya se conocen los ganadores de los Oscars 2014. Las estrellas más brillantes de Hollywood se reunieron en el Dolby Theatre este domingo para celebrar la entrega de los Premios Oscar  de la Academia 2014, con Ellen DeGeneres como anfitriona. "12 Years a Slave" ganó la categoría de "Mejor Película". "El film "Gravity" de Alfonso Cuarón triunfó en todas las categorías técnicas y de efectos especiales, y Mejor Director. Lupita Nyong'o se llevó el Oscar como "Mejor Actriz de Reparto". Jared Leto y Matthew McConaughey recibieron los Oscars a "Mejor Actor de reparto" y "Mejor Actor" – respectivamente – por sus trabajos en "Dallas Buyers Club".
Debo mencionar el discurso de Jared Leto, fue magnífico, lo dedicó a su madre, Constance,  le agradeció por su apoyo a lo largo de su carrera, también a su hermano Shannon por compartir esta aventura en '30 Seconds To Mars' y por ser su mejor amigo. Jared ofreció palabras a de apoyo a Ucrania y Venezuela, alentando a su gente a que sigan luchando por sus ideales, sus sueños. (omg! LOVE HIM!! :´)  ). Y claro que dedicó su Oscar a las 36 millones de personas que han perdido la batalla contra el SIDA, y a aquellas personas que han sido atacados por ser quienes son o amar a quienes aman, dijo estar allí en frente del mundo para ellos y por ellos. BEST SPEECH EVER!!! En la ceremonia se presentaron Pink, U2, Ellen repartió pizza a la audiencia, Lupita Nyong'o bailó con Pharrell durante su canción "Happy". So, Denle un vistazo a algunos de los Ganadores del Oscar 2014, a continuación: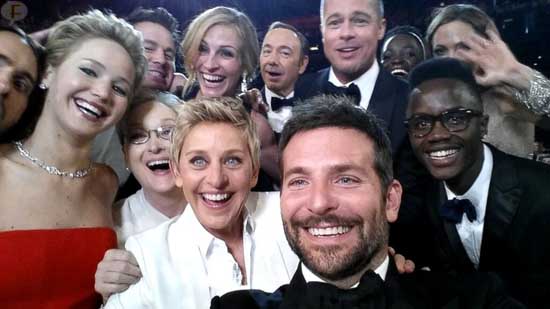 Ellen DeGeneres: [Bradley Cooper] tomó la mejor selfie de todas...
"Si el brazo de Bradley Cooper fuese más largo. La mejor foto de todas"
- escribió Ellen en su Twitter


FYI: Esta pic de Ellen, con Bradley, Jennifer Lawrence,  Channing Tatum, Jared Leto (se le ve solo un ojo), Meryl Streep, Julia Roberts, Kevin Spacey, Lupita Nyong'o, Brad Pitt, y Angelina Jolie (justo detrás del hermano de Lupita) colapsó Twitter, luego que fue retweeted 2 millones de veces… lol!
—————————————-
And the Oscar went to ….
Mejor Película – Best Picture: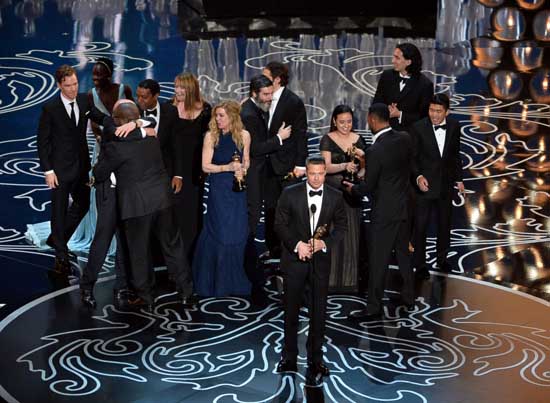 "American Hustle"
"Captain Phillips"
"Dallas Buyers Club"
"Gravity"
"Her"
"Nebraska"
"Philomena"
"12 Years a Slave"
"The Wolf of Wall Street"
Mejor Actor de reparto – Best Supporting Actor: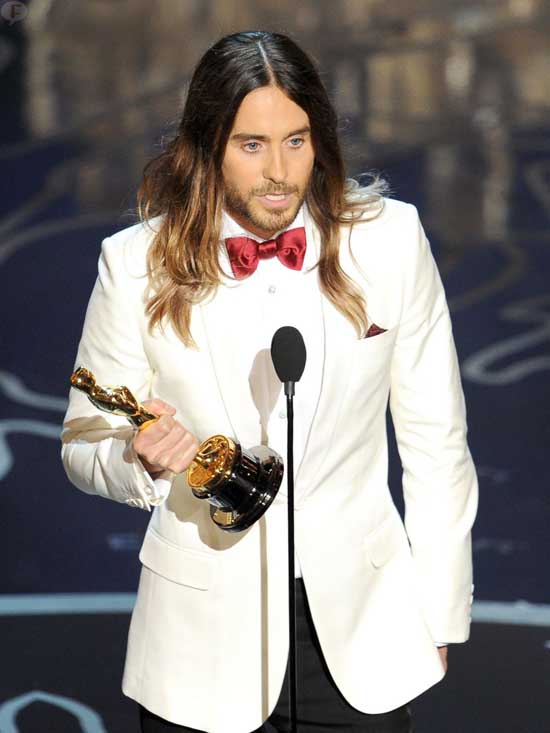 To all the dreamers out there around the world watching this tonight in places like Ukraine and Venezuela, I want to to say we are here, and as you struggle to make your dreams happen and live the impossible, we are thinking of you tonight.
Barkhad Abdi, "Captain Phillips"
Bradley Cooper, "American Hustle"
Jonah Hill, "The Wolf of Wall Street"
Michael Fassbender, "12 Years a Slave"
Jared Leto, "Dallas Buyers Club" 
Mejor Actriz de Reparto – Best Supporting Actress: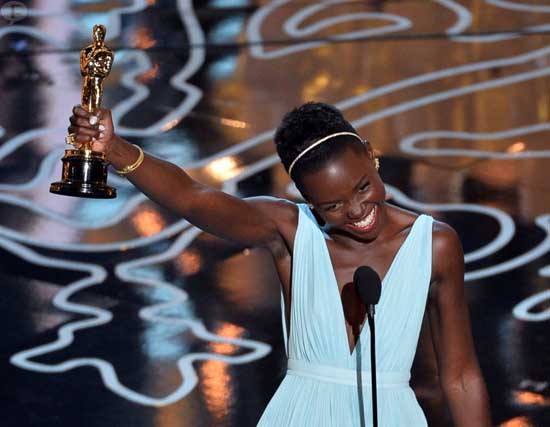 Sally Hawkins, "Blue Jasmine"
Jennifer Lawrence, "American Hustle"
Lupita Nyong'o, "12 Years a Slave"
Julia Roberts, "August: Osage County"
June Squibb, "Nebraska"
Mejor Director – Best Director:
David O. Russell, "American Hustle"
Alfonso Cuaron, "Gravity" 
Alexander Payne, "Nebraska"
Steve McQueen, "12 Years a Slave"
Martin Scorsese, "The Wolf of Wall Street"
Mejor Actor -Best Actor: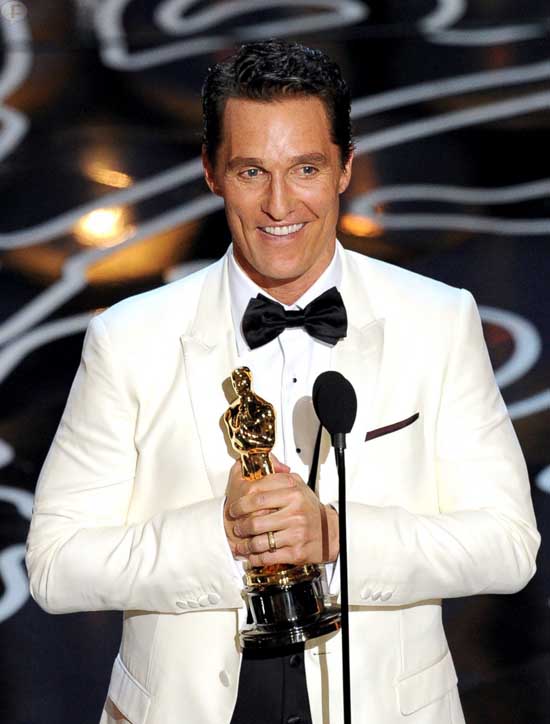 Christian Bale, "American Hustle"
Bruce Dern, "Nebraska"
Leonardo DiCaprio, "The Wolf of Wall Street"
Chiwetel Ejiofor, "12 Years a Slave"
Matthew McConaughey, "Dallas Buyer's Club"
Mejor Actriz – Best Actress:
Amy Adams, "American Hustle"
Cate Blanchett, "Blue Jasmine"
Sandra Bullock, "Gravity"
Judi Dench, "Philomena"
Meryl Streep, "August: Osage County"
Mejor Film Animado – Best Animated Feature:
"The Croods"
"Despicable Me 2"
"Ernest & Celestine"
"Frozen" 
"The Wind Rises"
Mejor Film Extranjero – Best Foreign Feature:
"The Broken Circle Breakdown," Belgium
"The Great Beauty," Italy
"The Hunt," Denmark
"The Missing Picture," Cambodia
"Omar," Palestine
Mejores Efectos Visuales- Best Visual Effects:
"Gravity" 
"The Hobbit: The Desolation"
"Iron Man 3"
"The Lone Ranger"
"Star Trek Into Darkness"
Mejor Canción Original – Best Music (Original Song):
"Alone Yet Not Alone" from "Alone Yet Not Alone"
"Happy" from "Despicable Me"
"Let It Go" from "Frozen" 
"The Moon Song" from "Her"
"Ordinary Love" from "Mandela: Long Walk to Freedom"
Pueden ver el resto de los ganadores y categorías aquí