Ya se conocen los nominados a lo Peor del Cine, the worst! según los Premios Razzie. Entre las peores películas están las Tortugas Ninjas, la Legenda de Hercules, Transformers: Age of Extinction.
Entre las peores actuaciones masculinas de este año que pasó, según los Golden Raspberries están Kirk Cameron, Adam Sandler, Kellan Lutz, Nicholas Cage, las peores actrices Cameron Diaz, Charlize Theron, Drew Barrymore… ouch!
En fin, si vieron algunas de las películas sabrán si tienen razón o no… Ah al final está una nueva categoría este año, el PREMIO REDENTOR para aquellas celebridades que alguna vez fueron deshonradas con los Razzie pero han tenido éxito en la critica… a ver si ganan LOL! figuran Jennifer Aniston, Keanu Reeves (love him no matter what!), Kristen Stewart, Ben Affleck… Vean la lista completa a continuación, Check it out!
Farandulistas, Cuál fue la peor película que vieron en 2014?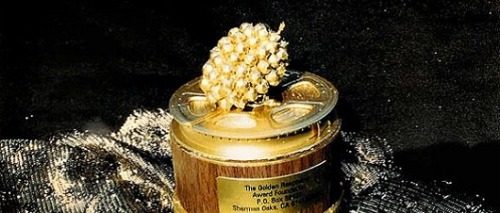 Nominados a los Premios Razzie 2015
PEOR PELICULA – WORST PICTURE
• Kirk Cameron's Saving Christmas
• Left Behind
• The Legend of Hercules
• Teenage Mutant Ninja Turtles
• Transformers: Age of Extinction
PEOR ACTOR – WORST ACTOR
• Kirk Cameron, Kirk Cameron's Saving Christmas
• Nicholas Cage, Left Behind
• Kellan Lutz, The Legend of Hercules
• Seth MacFarlane, A Million Ways to Die in the West
• Adam Sandler, Blended
PEOR ACTOR DE REPARTO – WORST SUPPORTING ACTOR
• Mel Gibson, Expendables 3
• Kelsey Grammer, Expendables 3, Legends of Oz, Think Like a Man Too, Transformers: Age of Extinction
• Shaquille O'Neal, Blended
• Arnold Schwarzenegger, Expendables 3
• Kiefer Sutherland, Pompeii
PEOR ACTRIZ – WORST ACTRESS
• Drew Barrymore, Blended
• Cameron Diaz, The Other Woman and Sex Tape
• Melissa McCarthy, Tammy
• Charlize Theron, A Million Ways to Die in the West
• Gaia Weiss, The Legend of Hercules
PEOR ACTRIZ DE REPARTO – WORST SUPPORTING ACTRESS
• Cameron Diaz, Annie
• Megan Fox, Teenage Mutant Ninja Turtles
• Nicola Peltz, Transformers: Age of Extinction
• Susan Sarandon, Tammy
• Brigitte Ridenour (née Cameron), Kirk Cameron's Saving Christmas
PEOR DIRECTOR – WORST DIRECTOR
• Michael Bay, Transformers: Age of Extinction
• Darren Doane, Kirk Cameron's Saving Christmas
• Renny Harlin, The Legend of Hercules
• Jonathan Liebesman, Teenage Mutant Ninja Turtles
• Seth MacFarlane, A Million Ways to Die in the West
PERO REMAKE, RIPO-FF, SECUELA – WORST REMAKE, RIP-OFF OR SEQUEL
• Annie
• Atlas Shrugged: Who Is John Galt?
• The Legend of Hercules
• Teenage Mutant Ninja Turtles
• Transformers: Age of Extinction
PEOR COMBO EN PANTALLA – WORST SCREEN COMBO
• Any Two Robots, Actors (Robotic Actors), Transformers: Age of Extinction
• Kirk Cameron & His Ego, Kirk Cameron's Saving Christmas
• Cameron Diaz & Jason Segel, Sex Tape
• Kellan Lutz &ni sus abdominales, pectorales o glúteos
• Seth MacFarlane & Charlize Theron, A Million Ways to Die in the West
PEOR GUIÓN – WORST SCREENPLAY
• Kirk Cameron's Saving Christmas
• Left Behind
• Sex Tape
• Teenage Mutant Ninja Turtles
• Transformers: Age of Extinction
PREMIO REDENTOR – REDEEMER AWARD
• Ben Affleck, desde Gigli a Argo y Gone Girl
• Jennifer Aniston, de ser cuatro veces nominada a los Razzie a Cake
• Mike Myers, de The Love Guru a dirigir Supermensch
• Keanu Reeves, de ser seis veces nominado a los Razzie a  John Wick
• Kristen Stewart, de ser seis veces ganadora de los Razzie por Twilight a Camp X-R ay