Falleció B.B. King – El Rey del Blues
B.B. King,  el legendario Rey del Blues, falleció a los 89 años en su residencia en Las Vegas. King murió este jueves a las 9:40 p.m, pacíficamente mientras dormía  – así lo dijo su abogado Brent Bryson a Associated Press.
King tenia 89 años y padecía de Diabetes Tipo II desde hace muchos años. B.B. King entró al famoso Rock and Roll Hall of Fame en 1987. King nació el 16 de septiembre, de 1925, en Mississippi – su nombre era Riley B. King, y lanzó 50 discos desde 1940. Está en la lista del 2011 de Rolling Stone magazine como el sexto del los 100 Mejores Guitarrista de todos los tiempos.
B.B. King recibió unos 15 Grammys a lo largo de su carrera y le fue reconocido con el Lifetime Achievement Award en 1987. En 1998, el cantante de "The Thrill is Gone" recibió el Grammy Hall of Fame Award. Sobre como obtuvo su nombre artístico, su website oficial explica (via TheWrap) que cuando sus presentaciones en la emisora de radio WDIA en Memphis se hicieron muy populares, el Rey necesitaba un nombre pegadizo de radio: "Lo que comenzó como Beale Street Blues, fue cortado a Blues Boy King y finalmente quedó como B.B. King."
El pasado Octubre, King fue forzado a cancelar ocho presentaciones luego que cayó por deshidratación y cansancio en un show en Chicago. El cantante se presentó con su guitarra negra Gibson – a la que llamaba "Lucille" – por más de 60 años. B.B. King R.I.P.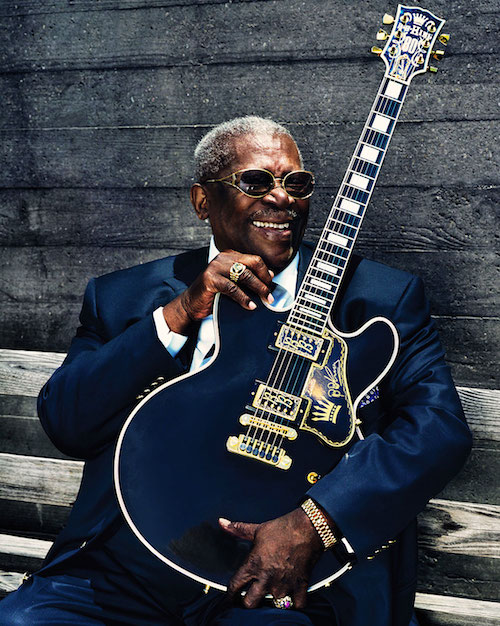 BB King El Rey del Blues
cnn/tmz
B.B. King llama a esta, su  mejor presentación. 
En vivo en la Prisión de Sing Sing.
U2 & B.B. King - When Love Comes To Town




B.B. King - The Thrill Is Gone