Rihanna: crisis nerviosa en los Grammys?
Rihanna canceló su presentación en los Grammys a último minuto y dicen que la cantante estaba con un ataque de histeria antes de dejar el show. Hay varias versiones de la historia y el motivo que hizo que RiRi se pusiera así. MELTDOWN!! is the new black!
Fuentes conectadas al show y múltiples fuentes no conectadas, pero que estaban allí presentes, dijeron a TMZ que la cantante estaba muy escandalosa expresando su descontento por el ensayo. Dicen que ella estaba gritando y molesta, y al final se fue del show.
La gente de Rihanna dice que ella tuvo un problema médico… bronquitis, que estaba tan mal que no se pudo presentar y por eso se fue. SURE! Fuentes cercanas a RiRi dijeron al website que ella estaba demasiado molesta como para quedarse a mirar el show.
Well, the funny thing es que dicen que Rihanna cantó espectacular dos noches antes del Grammy, en el evento de caridad de Lionel Richie. Muchas fuentes aseguran que la voz de Rihanna estaba genial en los ensayos a los Grammys. So, por qué Rihanna decidió abandonar a última hora? Who knows? Estaria infeliz con el escenario? Ok, eso es de otra historia… LOL!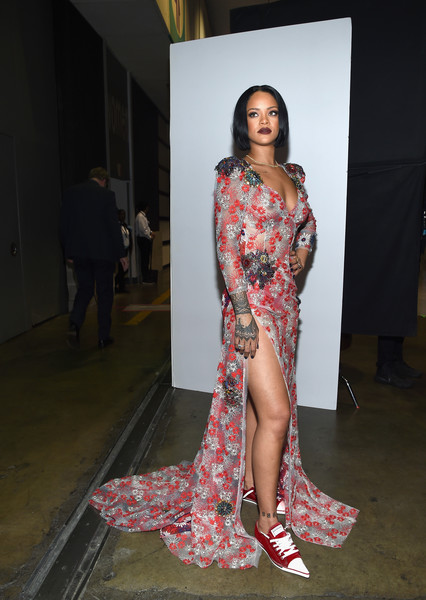 Rihanna tuvo un ataque en los Grammys
OMG! Esos zapatos!
Combinan con los abrigos peluches de la KK!!