Kris le dice a Kim que deje a Kanye YA! [Star]
Kris le dice a Kim que deje a Kanye YA! Ese debería ser el titular de esta semana de Star magazine, pero nope, es solo uno de los tantos chismes.
La portada de Star dice que el "guapote" novio de Miranda Lambert (ya saben, la ex esposa de Blake Shelton que ahora sale con Gwen Stefani) la botó porque le llamó Blake en la cama. WTF? LMAO! Cómo pueden saber algo así? Qué, el novio fue a contarlo a Star?
Según el chisme, el chico con el que Miranda Lambert pasó su despecho, o el "rebound", supuestamente siente que Miranda "nunca superó a Blake", y otro insider dice que "ella accidentalmente le llamó Blake una noche en la cama!". OMG!
So, esta noticia debe ser dada por Blake, porque imaginen, el tipo es tan bueno, tan bueno en la cama que Miranda dijo su nombre mientras estaba con otro. O sea! No lo ha superado, Y además tenemos el chisme de que Gwen está super feliz, y dice "Miranda tiene lo que se merece". HA! Gwen es una bruja!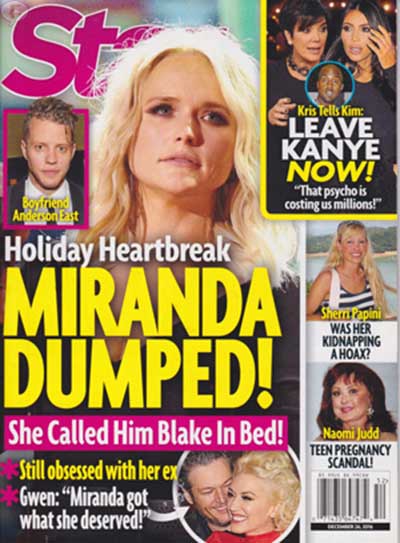 Otros chismes de Star esta semana:
Kris Jenner le dijo (o le ordenó) a Kim que dejara a Kanye AHORA! Porque ese maldito loco les está costando millones!
Julia Roberts está super molesta porque no la llamaron para "Ocean's 8" (la película femenina de Ocean's 11 con Clooney y Brad Pitt). HA! I don't buy it!
Jennifer Lawrence no le da la mano a nadie porque tiene miedo de los gérmenes.
James Corden es una pesadilla trabajar con él.
Jennifer Lopez quizá empiece a acostarse con Dereck Hough de 'Dancing With The Star'. HA!