Ganadores MTV Movie and TV Awards 2017
Los repotenciados MTV Movie and TV Awards 2017 que premian lo mejor del cine y la tv, así como también pequeños proyectos, debutaron este domingo en la noche.
El show fue animado por el comediante y actor Adam DeVine, quien apareció cantando en el acto de "La Bella y La Bestia" en la ceremonia, junto a Hailee Steinfeld.
La actriz Emma Watson, protagonista del la taquillera película de Disney, ganó el premio de la noche como mejor actriz.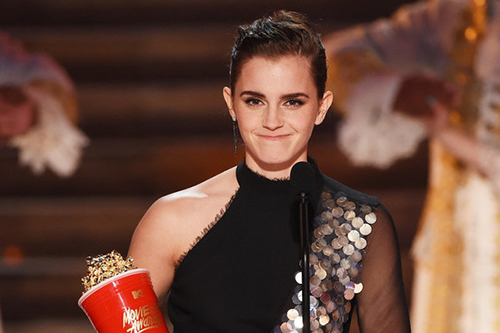 "Creo que me dan este premio por quien es Bella y lo que representa. Los aldeanos en nuestro cuento de hadas querían hacerle creer a Belle que el mundo era más pequeño que el que ella veía, con pocas oportunidades para ella. Amo interpretar a alguien que no escucha nada de eso" - dijo Watson en su discurso.
La actriz también comentó el hecho de que este es el primer año que MTV tiene categorías sin género, lo que lo hace más honorable y con más significado para ella.
Vean a continuación la lista de ganadores de los MTV Movie and TV Awards 2017:
Película del Año – Movie of the Year
"Beauty and the Beast" - GANADORA
"The Edge of Seventeen"
"Get Out"
"Logan"
"Rogue One: A Star Wars Story"
Mejor Actor en una Película – Best Actor in a Movie
Daniel Kaluuya – "Get Out"
Emma Watson – "Beauty and the Beast" - GANADORA
Hailee Steinfeld – "The Edge of Seventeen"
Hugh Jackman – "Logan"
James McAvoy – "Split"
Taraji P. Henson – "Hidden Figures"
Show del Año – Show of the Year
"Atlanta"
"Game of Thrones"
"Insecure"
"Pretty Little Liars"
"Stranger Things" - GANADORA
"This Is Us"
Mejor Actor en un show – Best Actor in a Show
Donald Glover – "Atlanta"
Emilia Clarke – "Game of Thrones"
Gina Rodriguez – "Jane the Virgin"
Jeffrey Dean Morgan – "The Walking Dead"
Mandy Moore – "This Is Us"
Millie Bobby Brown – "Stranger Things" - GANADORA
Mejor Beso – Best Kiss
Ashton Sanders and Jharrel Jerome – "Moonlight" - GANADOR
Emma Stone and Ryan Gosling – "La La Land"
Emma Watson and Dan Stevens – "Beauty and the Beast"
Taraji P. Henson and Terrence Howard – "Empire"
Zac Efron and Anna Kendrick – "Mike and Dave Need Wedding Dates"
Mejor Vilano – Best Villain [Get Out spoiler]
Demogorgon – "Stranger Things"
Jared Leto – "Suicide Squad"
Jeffrey Dean Morgan – "The Walking Dead" - GANADOR
Wes Bentley – "American Horror Story"
Mejor Anfitrión/na- Best Host
Ellen DeGeneres – "The Ellen DeGeneres Show"
John Oliver – "Last Week Tonight With John Oliver"
RuPaul – "RuPaul's Drag Race"
Samantha Bee – "Full Frontal With Samantha Bee"
Trevor Noah – "The Daily Show" - GANADOR
Mejor Documental – Best Documentary
"13TH" - GANADOR
"I Am Not Your Negro"
"O.J.: Made in America"
"This Is Everything: Gigi Gorgeous"
"TIME: The Kalief Browder Story"
Mejor reality de Competencia – Best Reality Competition
"America's Got Talent"
"MasterChef Junior"
"RuPaul's Drag Race" - GANADOR
"The Bachelor"
"The Voice"
Mejor presentación de comedia – Best Comedic Performance
Adam Devine – "Workaholics"
Ilana Glazer and Abbi Jacobson – "Broad City"
Lil Rel Howery – "Get Out" - GANADOR
Seth MacFarlane – "Family Guy"
Seth Rogen – "Sausage Party"
Will Arnett – "The LEGO Batman Movie"
Mejor Héroe – Best Hero
Felicity Jones – "Rogue One: A Star Wars Story"
Grant Gustin – "The Flash"
Mike Colter – "Luke Cage"
Millie Bobby Brown – "Stranger Things"
Stephen Amell – "Arrow"
Taraji P. Henson – "Hidden Figures" - GANADORA
Drama – Tearjerker
"Game of Thrones" – La muerte de Hodor – Hodor's (Kristian Nairn) Death
"Grey's Anatomy" – Meredith le dice a sus hijos sobre la muerte de Dereck – Meredith tells her children about Derek's death (Ellen Pompeo)
"Me Before You" – Will le dice a Louisa que no puede estar con ella – Will (Sam Claflin) tells Louisa (Emilia Clarke) he can't stay with her
"Moonlight" – Paula le dice a Chiron que lo ama – Paula (Naomie Harris) tells Chiron (Trevante Rhodes) that she loves him
"This Is Us" – Jack y Randall en el karate – Jack (Milo Ventimiglia) and Randall (Lonnie Chavis) at karate - GANADOR
Próxima Generación – Next Generation
Chrissy Metz
Daniel Kaluuya - GANADOR
Issa Rae
Riz Ahmed
Yara Shahidi
Mejor Pareja – Best Duo
Adam Levine y Blake Shelton – "The Voice"
Daniel Kaluuya y Lil Rel Howery – "Get Out"
Brian Tyree Henry y Lakeith Stanfield – "Atlanta"
Hugh Jackman y Dafne Keen – "Logan" - GANADOR
Josh Gad y Luke Evans – "Beauty and the Beast"
Martha Stewart y Snoop Dogg – "Martha and Snoop's Potluck Dinner Party"
Mejor Historia Americana – Best American Story
"Black-ish" -- GANADORA
"Fresh Off the Boat"
"Jane the Virgin"
"Moonlight"
"Transparent"
Mejor lucha contra el sistema – Best Fight Against the System
"Get Out"
"Hidden Figures" -- GANADORA
"Loving"
"Luke Cage"
"Mr. Robot"
❤️ @HaileeSteinfeld and @ADAMDEVINE make the perfect Belle + Beast. #MTVAwards pic.twitter.com/FoDRhy0CNn

— MTV (@MTV) 8 de mayo de 2017