Ariana Grande y The Weeknd Líderes de la próxima generación TIME
Yeap, TIME nombró a Ariana Grande y a The Weeknd como líderes de la próxima generación. La lista es para reconocer a jóvenes pioneros que usan su fama e influencia para promover y apoyar cambios en el mundo.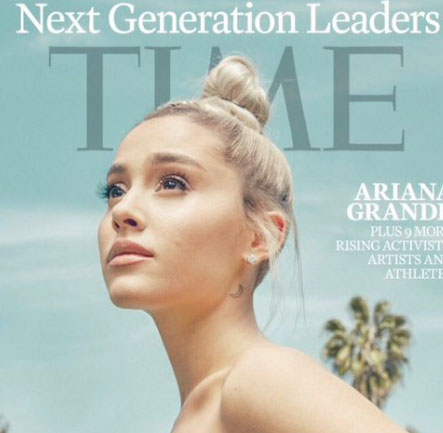 La lista anual destaca el trabajo de activistas, artistas, atletas y figuras destacadas de edades entre los 20 y los 30 años.
En el post de Time mostrando la portada con Ariana Grande resalta el éxito de su carrera musical y lo que tuvo que afrontar tras el atentado terrorista en su concierto de Manchester el año pasado. Dice que ella (ahora) está feliz y quiere que el mundo sepa eso.
"A sus 24, Grande es una de las pop star más grandes en el mundo, y ella viene con nueva música, luego de dos años desde su último disco, el éxito Dangerous Woman. Su más reciente single, "No Tears Left To Cry" una triunfante confección pop infectada con house de los 90s, con voces entrecortadas, una parte valiente, y palabras juguetonas"

"Ariana hizo una canción sobre la capacidad de recuperación porque tuvo que ser resistente, de maneras difíciles de imaginar, después que un terrorista detonara una bomba en las afueras de su concierto en Manchester, el 22 de mayo del 2017, y matara a 22 personas dejando heridas a más de 500. Lo sucedido es parte de la canción, pero la canción no es sobre lo que sucedió. La canción es alegre y exuberante y Grande se enorgullece de eso y de sí misma."

"Cuando comencé a cuidarme a mi misma, luego vino el equilibrio, la libertad y la alegría." "Se derramó en la música."
En el video de la canción ella está boca abajo, como solía ser la vida.
"Nos hemos equivocado con la idea de no volver a encontrar el suelo de nuevo" dice ella. "porque siento que finalmente estoy volviendo a ponerme de pie."
Mostrando la portada de The Weeknd, TIME habla del cantante sus comienzos.
"Abel Tesfaye, 28, mejor conocido públicamente como @theweeknd ha hecho una carrera fuera de la clandestinidad a plena vista. Cuando comenzó a lanzar su música en 2010, mantuvo el personaje intencionalmente vago, generando ruido principalmente en Internet, los fans crecieron para amarlo sin saber si era una banda o un solista. Ahora Tesfaye en una superestrella con una serie de éxitos No. 1 ("The Hills", "Can not Feel My Face", "Starboy") y un nuevo álbum, My Dear Melancholy, que registró más de 25 millones de transmisiones en @Spotify y @applemusic, respectivamente, durante las primeras 24 horas del lanzamiento, están entre los mejores debuts digitales de todos los tiempos."
So, parece que en vez de resaltar sus actividades para mejorar el mundo les promocionan los discos. HA!
Ariana Grande se ve muy natural en esta portada, y The Weeknd… well, posa de perfil. Alguien en TIME habrá escuchado las letras de las canciones de Abel? Just saying! LOL! Qué opinan Farandulistas?
A tod@s los que querían este post, XoXo