Kate & William: Baby Número 4. Una niña!! (Star)
Yep, la nueva portada de Star magazine tiene: Baby 4. Kate & William. Es una niña! Ganando peso de mamá y adorándolo! George le dice a su mamá y papá que no puede esperar a ser el hermano mayor de nuevo – y Charlotte quiere cuidar a su hermanita.
A Kate la quieren embarazar siempre. Kate the Baby Machine!
Según la revista Star, Kate Middleton y el Príncipe William están esperando su cuarto baby, a solo 8 meses del nacimiento de baby Louis.
"Una niña viene en camino para la radiante pareja real" – dice en informante.

"Kate y William están delirantemente felices de estar esperando de nuevo, y todavía mejor que es una niña."
Y es que hasta revelan detalles íntimos como cuando fue concebida la baby, dicen que Kate de hecho concibió mientras estaba de reposo materno en su propiedad Anmer Hall en Norfolk.
"Kate y William le contaron a la Princesa Charlotte que ella iba tener una hermanita, y ella estaba muy emocionada, que empezó a bailar por la habitación" – dice el insider.
Por su parte, el príncipe George no puede esperar a tener otra hermana.
A diferencia de sus otros embarazos donde (según el tabloide) Kate perdió peso, en este lo está ganando y está muy feliz.
Well, Star embarazó a Kate again, al menos esta vez es una baby y no gemelas… como siempre.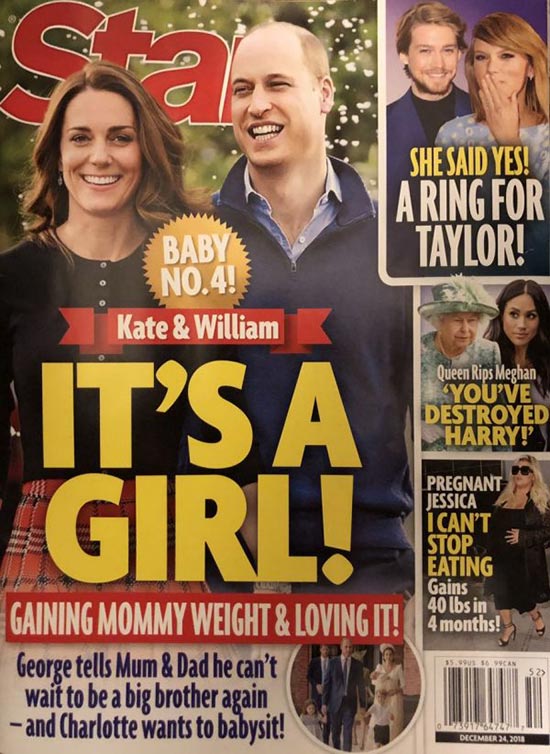 Otros cuentos de Star esta semana:
A diferencia de Us Magazine, a Taylor ya le propusieron matrimonio y ella dijo YES!
The Queen le dice a Meghan "Tu has destruido a Harry!"
La embarazadísima Jessica Simpson parece gritar, 'No puedo parar de comer'. Ganó unos 18 kilos (40 lbs) en 4 meses.