Zendaya hizo historia ganando el Emmy por Euphoria
Zendaya hizo historia ganando el Emmy por Euphoria. La actriz de 24 años es la más joven en obtener el galardón como Mejor Actriz en un Drama.
Zendaya ganó el Emmy como Mejor Actriz Dramática por su papel de Rue en la serie de HBO, Euphoria, venciendo a actrices como Olivia Colman, Laura Linney, Sandra Oh, Jodie Commer (ganadora del año pasado) y Jennifer Aniston.
Aquí está el vídeo del momento en que Zendaya gana el Emmy, amé su reacción, la cara de Jennifer Aniston se quedó con la boca abierta… LOL!
La serie Euphoria trata sobre unos estudiantes de high school y sus historias de amor, sexo, drogas y problemas de identidad, se estrenó en HBO en junio 2019. Recibió seis nominaciones este año, pero la de Zendaya fue la única por actuación. HBO anunció el año pasado que la serie fue renovada para una segunda temporada.
Zendaya dijo que estaba inspirada por otros de su misma edad que trabajaban para hacer la diferencia en el mundo:
"Solo quiero decir que hay esperanza en la gente joven. Solo quiero decir a todos nuestros compañeros que están haciendo el trabajo en las calles: Los veo, los admiro, les agradezco."
Se veía hermosa, esta chica tiene un futuro brillante como actriz. Congratulations!
Im presenting you the youngest woman of colour to ever win an #Emmy @Zendaya 😌 pic.twitter.com/OycTfVdfDr

— EMMY WINNER ZENDAYA🌠🦋 (@unholyCyruss) September 21, 2020
Aquí la Lista de los Ganadores de Los Emmys 2020:
La comedia de Schitt's Creek fue la triunfadora de la noche.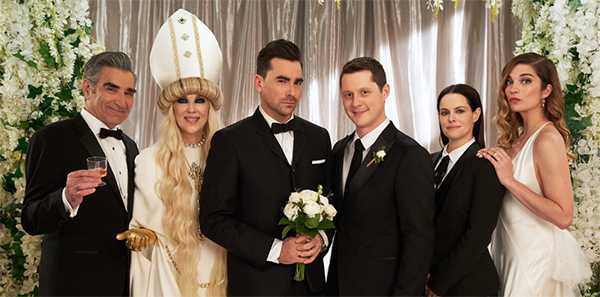 Mejor Actriz en una comedia – Outstanding Lead Actress in a Comedy Series
Christina Applegate (Dead to Me)
Rachel Brosnahan (The Marvelous Mrs. Maisel)
Linda Cardellini (Dead to Me)
Catherine O'Hara (Schitt's Creek)
Issa Rae (Insecure)
Tracee Ellis Ross (Black-ish)
Mejor Actor en una comedia – Outstanding Lead Actor in a Comedy Series
Anthony Anderson (Black-ish)
Don Cheadle (Black Monday)
Ted Danson (The Good Place)
Michael Douglas (The Kominsky Method)
Eugene Levy (Schitt's Creek)
Ramy Youssef (Ramy)
Mejor actor de Reparto en una Comedia – Outstanding Supporting Actor in a Comedy Series
Andre Braugher (Brooklyn Nine-Nine)
Mahershala Ali (Ramy)
Kenan Thompson (Saturday Night Live)
Daniel Levy (Schitt's Creek)
William Jackson Harper (The Good Place)
Alan Arkin (The Kominsky Method)
Sterling K. Brown (The Marvelous Mrs. Maisel)
Tony Shalhoub (The Marvelous Mrs. Maisel)
Mejor Actriz de Reparto en una Comedia – Outstanding Supporting Actress in a Comedy Series
Betty Gilpin (GLOW)
Yvonne Orji (Insecure)
Kate McKinnon (Saturday Night Live)
Cecily Strong (Saturday Night Live)
Annie Murphy (Schitt's Creek)
D'Arcy Carden (The Good Place)
Alex Borstein (The Marvelous Mrs. Maisel)
Marin Hinkle (The Marvelous Mrs. Maisel)
Mejor Comedia – Outstanding Comedy Series
Curb Your Enthusiasm
Dead to Me
Insecure
Schitt's Creek
The Good Place
The Kominsky Method
The Marvelous Mrs. Maisel
What We Do in the Shadows
Mejor Actriz en Serie Dramática – Outstanding Lead Actress in a Drama Series
Jennifer Aniston (The Morning Show)
Olivia Colman (The Crown)
Jodie Comer (Killing Eve)
Laura Linney (Ozark)
Sandra Oh (Killing Eve)
Zendaya (Euphoria)
Mejor Actor en Serie Dramática – Outstanding Lead Actor in a Drama Series
Jason Bateman (Ozark)
Sterling K. Brown (This Is Us)
Steve Carell (The Morning Show)
Brian Cox (Succession)
Billy Porter (Pose)
Jeremy Strong (Succession)
Mejor Actriz de Reparto en una Serie Dramática – Outstanding Supporting Actress in a Drama Series
Laura Dern (Big Little Lies)
Meryl Streep (Big Little Lies)
Fiona Shaw (Killing Eve)
Julia Garner (Ozark)
Sarah Snook (Succession)
Helena Bonham Carter (The Crown)
Samira Wiley (The Handmaid's Tale)
Thandie Newton (Westworld)
Mejor Actor de Reparto en Serie Dramática – Outstanding Supporting Actor in a Drama Series
Giancarlo Esposito (Better Call Saul)
Nicholas Braun (Succession)
Kieran Culkin (Succession)
Matthew Macfadyen (Succession)
Bradley Whitford (The Handmaid's Tale)
Billy Crudup (The Morning Show)
Mark Duplass (The Morning Show)
Jeffrey Wright (Westworld)
Mejor Serie Dramática – Outstanding Drama Series
Better Call Saul
The Crown
The Handmaid's Tale
Killing Eve
The Mandalorian
Ozark
Stranger Things
Succession