Lindsay Lohan enfrenta cargos por DUI
Lindsay Lohan estrelló su mercedes esta madrugada contra unos árboles en Beverly Hills, y fue arrestada temprano en la mañana por conducir ebria, o bajo influencia de alcohol. Lindsay se fue de la escena del choque. El video lo tiene SplashNewsOnline. Al parecer Lilo se lesionó en el accidente y fue llevada al hospital, las personas que iban con ella salieron ilesas del choque. Más tarde un vocero de la Policia de Beverly Hills confirmó que la actriz ha sido acusada por Manejar Bajo Influencia (D.U.I) y tiene orden de presentarse en la corte. Hoy un vocero de la Policia ha confirma do el arresto de Lohan por DUI, y se ha informado que encontraron rastros de cocaína en la escena. // Lindsay Lohan has been arrested for alleged drink-driving after she crashed her plush Mercedes car into a tree. Following the accident she was taken to a local hospital, where she received treatment for minor injuries. Cops caught up with La lohan in the early hours of Saturday morning after a night of partying with friends. A spokesman for Beverly Hills Police confirmed the actress was issued with a citation for Driving Under the Influence and ordered to appear in court. Lohan spent Friday night partying with a group of female pals at trendy Hollywood club Les Deux.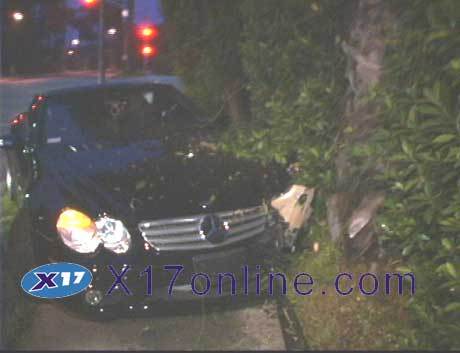 El mercedes de Lindsay
Dejando unos de los clubes esta madrugada, se ve totalmente destruida. Leaving a Hollywood Club Last Night… she's so high!