Jennifer Lopez en Harpers Bazaar [Febrero] (Updated!)
Jennifer Lopez ilumina la portada de la revista Harper's Bazaar, en su edición de Febrero. En una foto obviamente tomada mucho antes de su embarazo (o quizá al inicio), Jlo posa con un vestido rosado y anaranjado, y cabellera suelta, esta vez no hay tanto photoshop y se ve casi natural. Durante la entrevista con Harpers Bazaar, Jennifer Lopez expresó que estaba sorprendida de que la gente mostrara asombro cuando anunció su embarazo porque, Quien no sabía que ella estaba embarazada? López también habló sobre mantener su privacidad (Hello!) ahora que va a tener familia, y acotó que Marc es muy reservado. Mon-to-be-soon Jennifer Lopez graces the February issue of Haper's Bazaar magazine. She talks with Hapers Bazaar on her private life and pregnancy. She says she's amazed people were surprised when she finally announced she was pregnant. Because Who didn't know she was pregnant! Jlo looks beautiful on the cover but I'm sure this cover shot is old.
Me siento muy cuidadosa de abrir esa puerta ahora. Es una caja de Pandora. Es un estilo de voda destructivo para estar allí. Lo sé porque lo viví. Estar en las portadas de los tabloides cada dia por dos años – es duro. Empiezas a olvidar quien eres realmente. "I'm just feeling too protective to open that door right now," says Lopez. "It's a Pandora's box. It's a destructive lifestyle to be out there. I know because I've lived it. Being on the cover of the tabloids every day for two years – it's hard. You start forgetting who you really are inside."
Marc es una persona realmente reservado, y ha estado cantando en escenarios desde que era muy joven. Me ha hecho darme cuenta que puedes ser un artista, tener credibilidad y éxito, sin que tu vida esté en público las 24 horas del dia. "Marc is a really private person, and he's been singing onstage since he was really young. He made me realize you can be an artist, and have credibility and success, without your life being on public display 24 hours a day."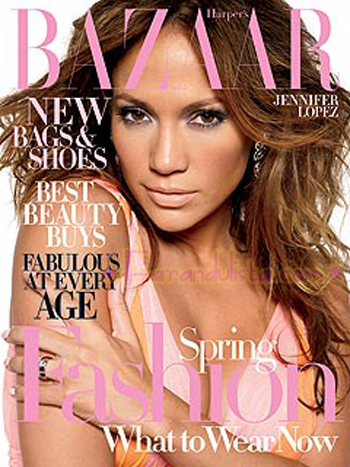 Jennifer Lopez en la portada de Harpers Bazaar [Feb]
[tags]Jennifer+Lopez, Harpers+Bazaar+Febrero[/tags]
[bgs]Jennifer Lopez[/bgs]