Tom Cruise es Jesucristo en la Scientologí­a
Según reportes de The Sun, Tom Cruise es el JesuCristo de la Escientología. Sí Señores, el mismo hombre que saltó en el sofá de Oprah, que salió gritando como un loco, ése, es el elegido del culto-religión de acuerdo a las declaraciones de sus líderes.Tom Cruise is the new "Christ" of Scientology, according to leaders of the cult-like religion.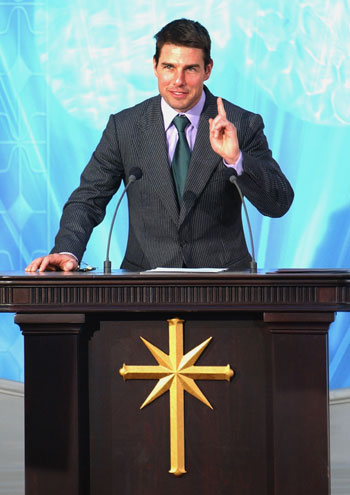 El líder David Miscavige cree que  Tom es el elegido para esparcir por el mundo el mensaje de la Escientología y como Jesús es y será criticado. El actor de Misión Imposible se unió a la escientología en los años 80. El Creador de este culto-religión L Ron Hubbard afirmaba que los humanos tenemos ancestros extraterrestres… David Miscavige believes He has been told he has been "chosen" to spread the word of his faith throughout the world. and in future, Cruise, 44, will be worshipped like Jesus for his work to raise awareness of the religion. Cruise joined the Church of Scientology in the '80s. Leader L Ron Hubbard claimed humans bear traces of an ancient alien civilisation.