La Vida de Anna Nicole Smith en fotos
GLAMOUR GIRL
Divorciada cuando era una adolescente, viuda a los 27 y ahora muerta a los 39 años, Anna Nicole Smith vivió una vida típica de una soap opera. Conocida por su manera salvaje de ser, la antes Mexia, nacida (como Vickie Lynn Hogan) comenzó su transformación hacia el estrellato de Hollywood hace más de dos décadas atrás. Divorced as a teen, widowed at 27 and now dead at 39, Anna Nicole Smith lived a life worthy of a soap opera. Known for her fierce drive, the former Mexia, Texas, native (who was born Vickie Lynn Hogan) began her transformation into a Hollywood star more than two decades ago.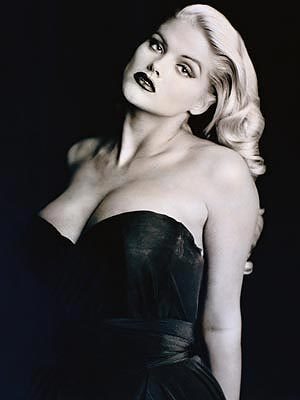 PUEBLO PEQUEÑO, GRANDES SUEÑOS – SMALL TOWN, BIG DREAMS
A los 17, quien desertara de la secundaria se casa con Billy Smith un chico de 16 años, cocinero de Jim's Krispy Chicken Shack, el restaurant del pueblo donde ella trabajaba. La Pareja tuvo un hijo, Daniel, en Enero de 1986 y se divorciaron al año.  At 17, the former high school dropout marries Billy Smith, a 16-year-old cook at Jim's Krispy Chicken Shack, the hometown restaurant where she worked. The pair have a son, Daniel, in Jan. 1986, and divorce a little over a year later.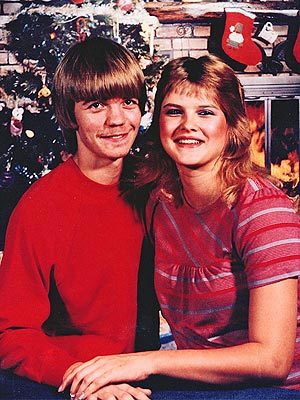 DE NADIE A UNA CONEJITA – FROM NOBODY TO SOME BUNNY
A solo cuatro años de hacer $60 a la semana como cajera de Wal-Mart, la madre soltera manda fotos de ella desnuda a Playboy  y logra una sesión. Ella hace el debut en  la Portada de Marzo y es nombrada Miss Mayo 1992. Obtiene el gran Honor de ser La Conejita del Año un año después. Just four years after making $60 a week as a Wal-Mart checkout girl, the single mom sends nude photos of herself to Playboy and lands a photo shoot. She makes her cover debut in March and is named Miss May 1992. She gets an even bigger honor the following year when she's named Playmate of the Year.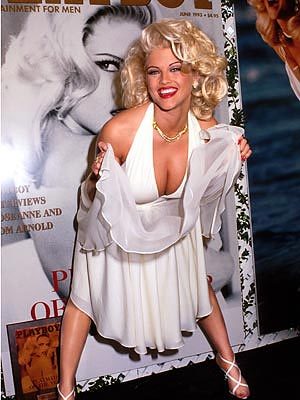 EL AMOR GOLPEA OTRA VEZ – LOVE STRUCK AGAIN
En la capilla de boda Houston's White Dove, Smith de 26 años, se casa con el multimillonario de 89 años J. Howard Marshall II el 27 de Junio del 94. Smith conoció al dos veces divorciado Marshall, cuya fortuna es estimada en 1.6 billones de dólares mientras trabajaba  como stripper en el Houston Strp Club en 1991. Luego de la muerte de Marshall 13 meses después. Smith libra una batalla por la herencia de su esposo. At Houston's White Dove wedding chapel, Smith, 26, marries 89-year-old oil billionaire J. Howard Marshall II on June 27, 1994. Smith met the twice-divorced Marshall, whose fortune is later estimated at $1.6 billion, while working as a topless dancer at a Houston strip club in 1991. Following Marshall's death 13 months later, Smith battles his son over her husband's estate.
CHEQUEANDO LA REALIDAD – REALITY CHECK
Smith logra su propio Reality Show en E! en el 2002, protagonizado por su hijo Daniel, la asistente Kim Walter y el abodago Howard K. Stern. Su premier el 4 de Agosto del 2002, fue vista por 4 millones de espectadores. Smith lands her own namesake reality TV show on E! in 2002, starring her son Daniel, assistant Kim Walther and lawyer Howard K. Stern. It premiered Aug. 4, 2002, drawing in 4 million viewers.
TRIMSPA, BABY!
Nombrada la vocera oficial para el suplemento dietético Trimspa en Febrero del 2004, Smith anunció en su propio E! Special que había perdido 69 libras (34 kilos aprox.) usando el medicamento vendido sin receta médica. Smith mostró su nueva y esbelta figura durante una aparición en los American Music Awards, preguntandole a la audiencia. Como mi cuerpo? antes de tropezarse en el escenario. Named spokeswoman for the diet supplement Trimspa in February 2004, Smith announces on her own E! special that she shed 69 lbs. using the over-the-counter drug. Smith debuts her new svelte figure that fall during a loopy appearance at the American Music Awards, asking the audience, «Like my body?» before stumbling offstage.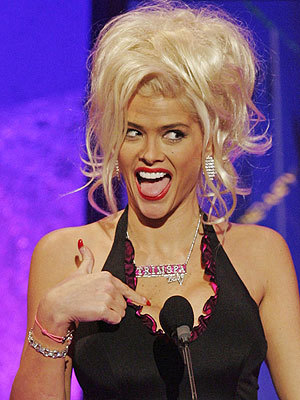 LA ESPERANZA EN UN BEBÉ – BABY HOPE
Mientras todavía lloraba a Daniel, Smith y  su abogado por mucho tiempo  Howard K. Stern, se confortan con su pequeña hija Dannielyn (nacida el 7 de sept, 2006) a quien Stern llama «pequeño rayo de esperanza». While still mourning Daniel, Smith and longtime lawyer Howard K. Stern take comfort in daughter Dannielynn (born Sept. 7, 2006), whom Stern has called their «one ray of hope.»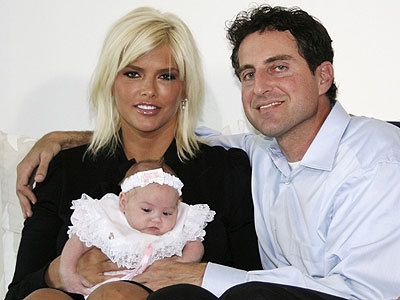 UN AMOR DE MADRE – A MOTHER'S LOVE
La repentina pérdida de su adorado hijo Daniel de 20 años, el 10 de septiembre devastó a Smith llevandola al encierro. «Ella está  abrumada, su abogado en el momento Michael Scott, le dijo a PEOPLE poco despues de la tragedia  «Ella intenta salir dentro de su desesperación» The sudden loss of her beloved son Daniel, 20, on Sept. 10, 2006 shatters Smith, sending her into seclusion. «She's overwhelmed,» her attorney at the time, Michael Scott, told PEOPLE shortly after the tragedy. «She's trying to come to grips with the depths of her despair.»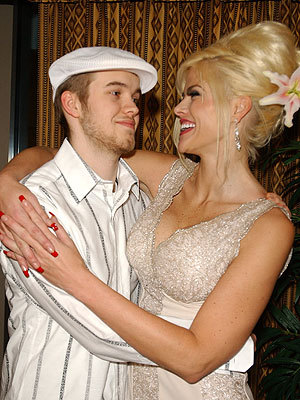 TAL PARA CUAL – TWO OF A KIND
A pesar de todo, lo único constante en la vida de Smith había sido la compañía de Stern (aquí en una pelea de Boxeao en Enero). Se acercaron más tras la muerte de Daniel, la pareja anunció su amor al mundo el año pasado, intercambiando votos el 28 de septiembre en una ceremonia en las Bahamas. Through it all, the one constant in Smith's life has been companion Stern (here, attending a boxing match together in January). Growing even closer in the wake of Daniel's death, the couple announced their love to the world last year – exchanging vows in a Sept. 28 commitment ceremony in the Bahamas.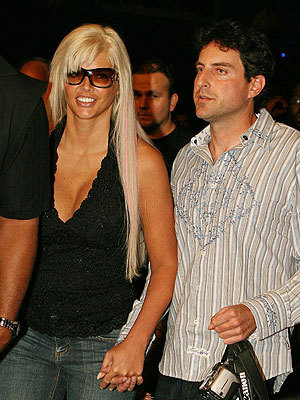 UN LUGAR ENTRE LAS ESTRELLAS – PLACE AMONG THE STARS
Smith (aquí, llegando a unos premios  en 2004) una vez dijo en el cuestionario de Playboy : «Quiero ser la nueva Marilyn Monroe. » Y como la jóven Norma Jean , la belleza dejó su firma y marca firmemente sobre Hollywood, diciendole a  PEOPLE en 1993: » Solamente sé que voy a ser una actriz. Lo deseo tanto. Lo he intentado tanto mi vida entera. Soy buena de corazón, y doy, doy, doy. Creo tal vez que es mi momento de recibir. » Smith (here, arriving at an awards show in 2004) once told Playboy in her Playmate questionnaire: «I want to be the new Marilyn Monroe.» And like the young Norma Jean, the buxom bombshell set her sight firmly on Hollywood, telling PEOPLE in '93: «I just know I'm going to be an actress. I want it so bad. I've tried so hard my whole life. I'm kindhearted, and I give, give, give. I think maybe it's my time to receive.»
Anna sin duda era una de las mujeres más bellas de Hollywood, porque hasta regorda era linda, pero vivió salvajemente y su vida era un desastre, hasta en los momentos más difíciles, Anna mostró su rostro, vendió las últimas fotos de su hijo Daniel, vendió el video de su cesárea, la batalla por el dinero del viejo con el que se casó y todo ese circo. Anna siempre fue una persona ambiciosa, y esto realmente aunque impacta era de esperarse, ella aparecía drogada en las presentaciones, y ni sabía qué decía. Pobre Daniel era depresivo y se descubrió que era por su mamá. Luego de la muerte de Daniel, Anna armó un circo, diciendo que lo habían asesinado, ella estaba sedienta de atención, unas semanas después de que Daniel muriera se va a intercambiar votos con su novio Howard Stern… sinceramente su actitud era ilógica, parecía que no le importaba nada, solo ser famosa y ganar dinero…
Anna undoubtedly was one of the most beautiful women of Hollywood, because being a fat woman she was pretty, but she lived wildly and her life was a disaster, even in the most difficult moments, Anna showed her face, sold the last photos of her son Daniel, sold the video of her Caesarean, the battle for the money of the old man which she married and all this circus. Anna always was an ambitious person, and this really shocks but it was waiting, she was turning out to be drugged in the presentations, and did not even know what was saying. Poor Daniel was depressive and there was discovered that he was for his mom. After the death of Daniel, Anna  armed a circus, saying that Daniel had been killed, she was thirsty for attention, a few weeks after Daniel dead She and her boyfriend Stern exchanging vows … Sincerely her actitud was illogical, it seemed that she doesn`t care about anything, just to be famous and earn money…