Colin Farrell revela haber sido adicto a los Rice Krispies!
Colin Farrel es conocido por haber tenido problemas con drogas y alcohol. El actor irlandés hace poco ha revelado que solía ser adicto a los Rice Krispies! Colin comenta que de chico no podía parar de comer este cereal, admite que siempre tuvo una personalidad obsesiva. Farrell ingresó en rehabilitación en el 2005 luego de terminar la filmación de Miami Vice. Colin decidió buscar ayuda luego de ver una foto de él y darse cuenta que sus vicios le estaban quitando la salud. Colin ha admitido haber experimentado con la cocaína, anfetaminas, ecstasis y heroína, luego de salir de rehabilitación su único vicio: el cigarrillo. Colin Farrell used to be addicted to Rice Krispies. He couldn't stop eating the breakfast cereal as a youngster, and admits he has always had an obsessive personality. Farrell, who has had well-documented problems with drink and drugs, checked into the Crossroads Centre, a rehab clinic set up by Eric Clapton in Antigua, after filming 'Miami Vice' in 2005. The Miami Vice star was inspired to seek help after hew saw a picture of himself and realised his lifestyle was taking a toll on his health. Colin has previously admitted to experimenting with heroin, ecstasy, cocaine and amphetamines, but since going to rehab he claims his only vice is smoking.
Solía comer Rice Krispies sin leche y con mucha azúcar. No había rehabilitación para Rice Krispies cuando era niño. Probablemente ahora si. Estaba obsesionado con ellos. Definitivamente tengo una personalidad adictiva. I used to eat Rice Krispies with no milk and loads of sugar. They didn't have Rice Krispies rehab when I was a kid! They probably do now. I was obsessed with them. I definitely have an addictive personality."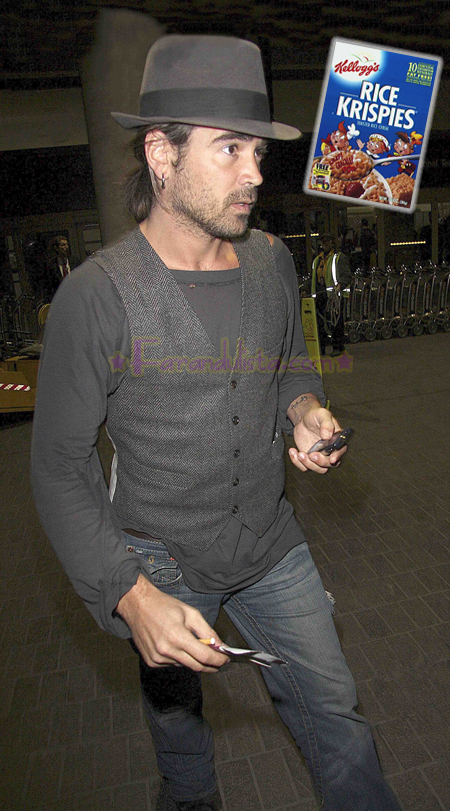 Colin Farrell agrega los Rice Krispies a su lista de adicciones
[tags]Colin+Farrell[/tags]
[bgs]Colin Farrell[/bgs]