Brangelina tendra una niña y un niño [In Touch magazine]
La nueva portada de In Touch afirma que Angelina Jolie y Brad Pitt están esperando gemelos, una niña y un niño. El tabloide insiste que la pareja está super emocionada porque Angie va a tener la parejita. Plus! La prueba de que Adnan engañó a Britney: La otra mujer le dijo a IN TOuch que nunca quiso herir a nadie. Además, La barriguita de Britney tiene a todo el mundo especulando. Está Madonna enviando un mensaje a Guy? Madonna canta una triste canción sobre una relación a larga distancia en su nuevo disco. Cómo Jennifer Lopez está perdiendo el peso del embarazo: In Touch revela la dieta y el plan de ejercicios usado por Jlo para tener el cuerpo que tenía antes. Al final vienen las mismas noticias una y otra vez… Sad! This is the new In Touch magazine cover, It claims Brad and Angelina's baby joy Brad Pitt and Angelina Jolie are beyond thrilled that she's going to have a boy and a girl. The proof Adnan cheated on Britney The other woman tells In Touch she never meant to hurt anyone. Plus, Britney's belly has people talking. Is Madonna sending Guy a message? Madonna sings a sad song about a long-distance relationship on her new album. How Jennifer's losing the baby weight In Touch reveals the diet and workout plans J. Lo's using to get her body back.
Farandulistas Discutan!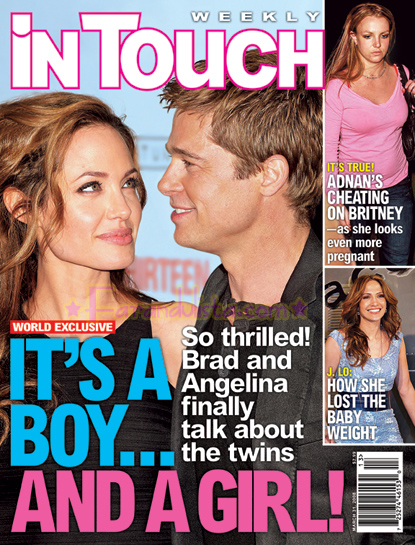 In Touch afirma que Brangelina tendra gemelos una niña y un niño
[tags]In+Touch+cover, Brangelina, Angelina+Jolie, Gemelos+niña+niño, Brad+Pitt[/tags]
[bgs]Angelina Jolie, Brad Pitt[/bgs]