Jennifer Lopez y sus gemelos en People magazine
Jennifer Lopez ha posado "en exclusiva" para la portada de People magazine junto a sus hermosos gemelos Max y Emme. Esta es la primera foto de Jennifer Lopez y sus gemelos. La edición de esta semana de People que sale a la venta mañana viernes, tiene 12 páginas con fotos exclusivas de Jennifer y Marc Anthony con sus preciosos bebés de un mes de nacidos, en su residencia de Long Island y su habitación. En la revista JLo habla sobre su embarazo, el peso ganado, los rumores de infertilidad y más. Here's the first pic of Jennifer Lopez and her twins, Max and Emme, born Feb. 22 in Long Island, N.Y. This week's issue of PEOPLE, on newsstands Friday, features 12 pages of new photos of the pop star with husband Marc Anthony and their 1-month-old bundles of joy inside their Long Island home and nursery. Jlo and Marc spoke candidly to PEOPLE about the pregnancy, addressing everything from Jennifer's weight gain to rumors of infertility.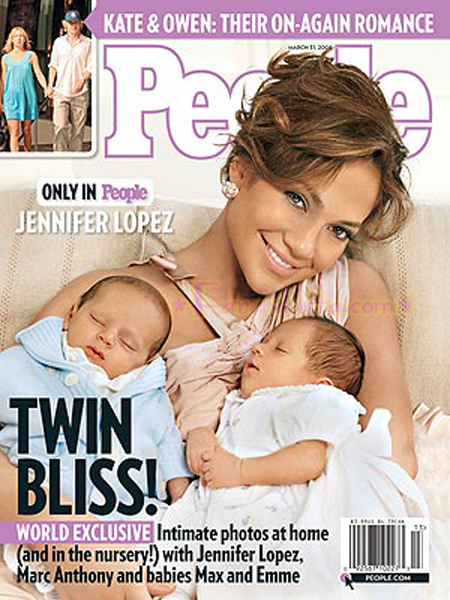 Jennifer Lopez y sus gemelos en la portada de People
Jennifer Lopez y Marc paseando en New York luego del embarazo
(16/03)
De verdad estas fotos vales $6 millones???
UPDATE 24/03! People nos envió una carta ayer domingo (23/03) solicitando que las fotos de la revista con Jennifer Lopez y sus gemelos fuesen removidas de la web. So… así lo hicimos.
[tags]Jennifer+Lopez, Jennifer+Lopez+gemelos+Max+Emme, People+Magazine+exclusiva[/tags]
[bgs]Jennifer Lopez[/bgs]