Jessica Simpson y Tony Romo terminaron?!!
Se dice que Jessica "atún o pollo?" Simpson ya terminó con el hombre al que llamaba su 'próximo esposo', Tony Romo. Así como lo leen. Ha! Sorry,  me da gracia… Ok, estoy muriendo de la risa! Porque hace poco Jessica Simpson y Tony Romo tuvieron una entrevista exclusiva con Us weekly y Jess decía que Tony Romo era su próximo esposo (niña! No sabes que esas cosas no se dicen en público?) Según la fuente, Tony estuvo de fiesta este fin de semana con sus compañeros de equipo y Jessica estuvo en clubes por su lado… ya entiendo la razón. Un amigo de Tony reveló que ellos (Jess y Tony) habían terminado. Aparentemente Romo estuvo acompañado de una rubia que no era Jessica durante toda la noche y cuando una fan le preguntó por la boda de Ashlee Simpson y Pete Wentz, contestó que no sabía nada de eso.
OMG! Jessica Simpson and Tony Romo broke up!!? Ha! this is funny, because Jess called Tony her next husband on an Us weekly magazine, she looked so desperate! According to the source Tony Romo was partying alone during last weekend and he was with a blonde girl, but wasn't  Jess "Tuna Fish" Simpson. Jessica was partying too, without Tony… Mmmm… funny, huh? A friend told that Tony and Jess broke up. Even a fan asked Tony for the upcoming wedding of Ashlee Simpson and Pete Wentz, Tony said he doesn't know anything about it. Well, It happens… Jess is single again. Stay Tune!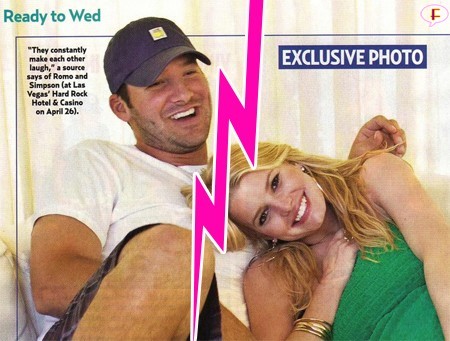 sweetkisses/tbamfs