Hablando de baby bumps… Paris Hilton? OMG! NO!
Hablando de baby bumps y vestidos ajustados, Paris Hilton fue fotografiada fuera del restaurant Beso (debe ser que no hay otro en todo L.A) y llevaba un vestido holgado y lo que parece una … baby bump??? OMG!! La barrigota que se le ve a la Paris es tal, que parece embarazada, aunque de pronto es solo la barriga luego de atragantarse. Pero lo gracioso aquí (gracioso de extraño) es la sonrisa que lleva, y cómo trató de llamar la atención hacia su panza, va como diciendo… mírenme… miren mi barriga. El vestido parece de maternidad, no me extrañaría que quedase en estado antes de casarse y luego salga con el cuento de que ya no se quiere casar… y eso que ya mandó a hacer el vestido "blanco" con Dolce&Gabbana. Ha! Blanco! sorry… me da risa. Paris, Paris ama tanto a Nicole que quiere copiar su vida…. Sad! OMG!! Paris Hilton pregnant? No wayyy! Maybe she just eat a large meal and she couldn't hold her bump. I don't know. However, the dress is like a pregger dress and she was making signs… See my bump! see my bump! Gosh! It would be so … Paris! Maybe she wants a double baptize with Nicole Richie's daughter Harlow Winter. Or It's just a copy of Nicoles life… Who knows?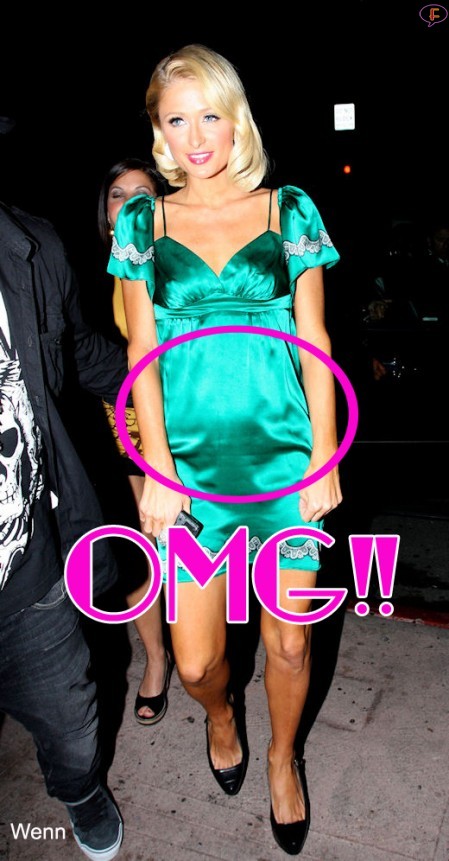 Es eso una baby bump, Paris??
tsws/wenn