Primera foto de la boda de Ellen y Portia en People
People.com ha publicado una 'muestra' de lo que será la próxima edición con las fotos exclusivas de la boda de Ellen DeGeneres y Portia de Rossi. La famosa actriz y conductora intercambió votos matrimoniales con su novia de mucho tiempo la también actriz Portia de Rossi,  el sábado pasado frente a amigos y familiares en su residencia de Beverly Hills. People.com has the preview of its new issue with the wedding album of Ellen DeGeneres and Portia de Rossi. The couple exchanged personal wedding vows in front of their closest family and friends at their home in L.A. «What can I say? I'm the luckiest girl in the world,» says DeGeneres. «She's officially off the market. No one else gets her. And now she'll cook and clean for me.» For the all the exclusives Ellen and Portia's wedding pics, pick up this week's issue of People, on newsstands Friday.
Qué puedo decir? Soy la chica más suertuda del mundo, dijo DeGeneres. Ella [Portia] está oficialmente fuera del mercado. Nadie más podrá tenerla. Y ahora ella cocinará y limpiará para mi.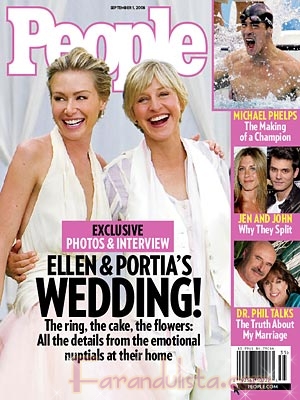 Preview Ellen DeGeneres y Portia de Rossi en su boda
People.com