Heather Locklear arrestada por conducir bajo influencia DUI
Heather Locklear (mejor conocida como Amanda en Melrose Place) fue arrestada bajo sospechas de manejar bajo influencia (DUI) en Santa Bárbara ayer en la noche. Una testigo vio a Heather Locklear manejar erráticamente luego que salía de un estacionamiento en Montecito, alrededor de las 4:30 a.m, la testigo dijo que Locklear aceleraba fuertemente el motor de su auto. Al llegar las patrullas Heather estaba sentada dentro de su auto, que bloqueaba el paso parcial de los vehículos, a Locklear le practicaron pruebas de alcohol, pero según uno de los oficiales ella parecía estar bajo efectos de alguna medicación. Heather Locklear fue arrestada bajo sospechas de manejar bajo influencia DUI y por estar bajo la influencia de una sustancia controlada. Fue registrada en una jefatura  a las 7:00 p.m y dejada en libertadad horas después. Heather Locklear entró en rehabilitación por depresión y ansiedad a finales de Junio en un Centro de Rehabilitación en Arizona.
Heather Locklear  was arrested on suspicion of driving under the influence Saturday evening in Santa Barbara County, Calif.  A female witness saw Heather driving erratically while leaving a parking lot in Montecito, around 4:30 a.m  "The witness said Locklear was revving her engine loudly, and backed over a pair of sunglasses several times." "When a CHP officer arrived, Locklear was found seated inside her vehicle, which was partially blocking the roadway." Alcohol was ruled out as a factor, but based on the officer's observations, we believe Locklear was under the influence of prescription medication,"  Locklear was arrested on suspicion of DUI and being under the influence of a controlled substance. She booked at a local jail around 7 p.m., and released hours later.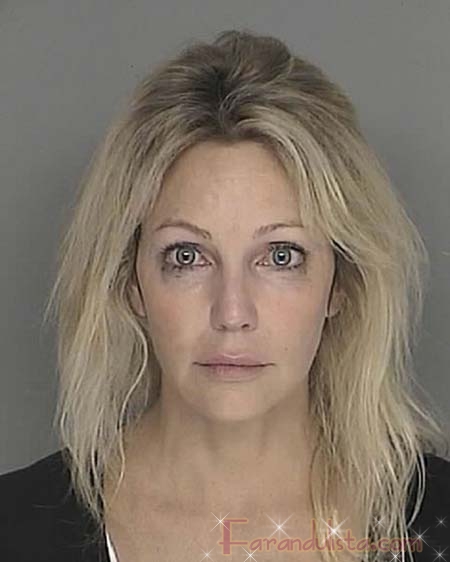 Heather Lockear es arrestada por conducir bajo influencia – Mugshot
   Splash News      
[bgs]Heather Locklear, Melrose Place[/bgs]