Britney Spears grabo documental con MTV – For The Record
Britney Spears ha grabado un documental de 90 minutos con MTV sobre su retorno al mundo de la música. Con su nuevo album Circus a lanzarse dentro de pocas semanas, la cantante está lista para mostrarle al mundo su lado de la historia. El título tentativo ' For the Record',  espera estrenarse el 30 de noviembre a las 10 p.m en MTV, dos dias antes de que Circus sea lanzado en Diciembre 2 (cuando Brit cumple 27 años). Britney has joined forces with MTV for a 90-minute documentary about her return to the pop-music spotlight. With her new album, Circus, set for release in just a few weeks, the singer is ready to show the world her side of the story. Tentatively titled "For the Record," the special is set to air on November 30 at 10 p.m. on MTV, two days before Circus is released on December 2 (the singer's 27th birthday).
El Documental combina historias personales con imágenes tras cámaras de su regreso. Camaras siguiendo a Brit por los estudios, los ensayos, las ruedas de prensa, a la grabación del video clip de su reciente single Womanizer, incluso en su casa en Louisiana. Un tras cámas de su triunfante aparición en los MTV VMAs 2008 también es presentado. Britney sabe de los errores que el mundo la vio cometer y comenta sobre cómo se siente ahora al respecto. The documentary combines personal stories with behind-the-scenes footage of her comeback. Cameras follow her to the recording studio, to rehearsals, to press tours, to the video shoot for her latest single, "Womanizer," and even to her hometown in Louisiana. Backstage footage from her recent triumphant appearance at the Video Music Awards is also featured.
"Es mucho lo que ha pasado durante este último par de años y hay muchas cosas que la gente no sabe acerca de mí que quiero que sepan", dijo Spears a MTV News en una declaración acerca del especial. "Quería hacer esta película porque empecé a sentir que no soy vista como desearía. Esta es una oportunidad para aclarar las cosas y hablar de lo que he pasado y he afrontado"
Me siento y piendo en el pasado, soy una persona inteligente, en qué diablos  estaba pensando?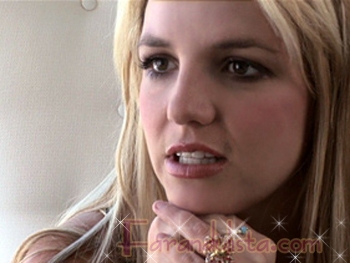 httpv://www.youtube.com/watch?v=8DbHyPaFhek
Britney Spears: For the record MTV preview Video
Britney comprando helado en Hollywood (9/10)
[bgs]Britney Spears, video[/bgs]