El rumor de la semana: Jenn Aniston embarazada de John Mayer
Hay fuertes rumores de que Jennifer Aniston esta embarazada del John Mayer, el rumor cobra mucha fuerza porque a estas alturas no han habido reacciones por parte del Team Aniston. Se dice que Jennifer y Mayer volvieron por el bienestar del bebé que aún no nace. Una fuente le dijo a NW Weekly que Jennifer Aniston está en las nubes de la emoción. Pero no quiere ser madre soltera así que está tratando de convencer a John Mayer de su potencial como padre. Mientras Jennifer está super feliz, John parece extrañamente calmado sobre la noticia.  Pensé que desmentirían el rumor el mismo dia o al dia siguiente pero ya es sospechoso.  Jennifer Aniston is thrilled at the news that she is expecting John Mayer's baby, it's claimed. Jenn and John Mayer who dated for four months over the summer – appear to have rekindled their romance in recent weeks – allegedly for the sake of their unborn child. A source tells NW Weekly, "Jennifer is over the moon. She doesn't want to be a single mom, so she is willing to give John the chance to prove his parent potential." While Jen is ecstatic, John remains suspiciously quiet about the whole affair.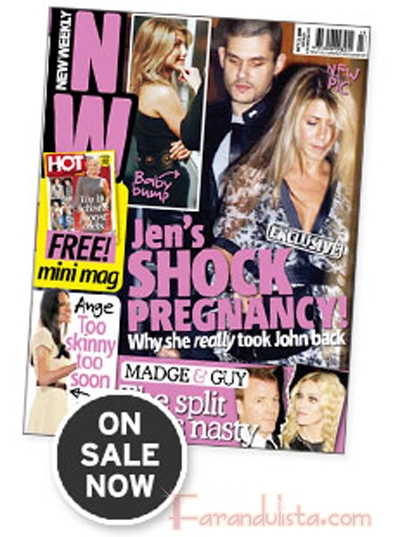 De acuerdo a NW Jennifer Aniston está embarazada
Fact or Fiction?

Obviamente es FALSo este rumor de que Jennifer Aniston está embarazada  de John Mayer. El representante de Jennifer desmintió la noticia  a ETonline diciendo que no es cierto, la estrella de Friends no está embarazada.
According to Jen's press rep, that is completely untrue.

"Give me a break," the rep tells ET. "She is NOT pregnant."
Fíjense como funcionan las cosas, cuando es un tipo de noticia así todo el mundo habla de ella, pero cuando se desmiente hay que buscar el reporte con lupa. Anyway!
[bgs]Jennifer Aniston, John Mayer[/bgs]